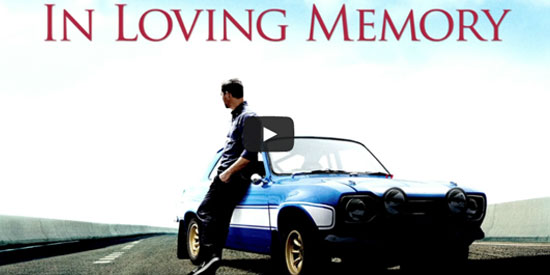 ---
Paul Walker has been remembered by the makers of Fast and Furious in a video tribute.
The two-minute clip splices together key moments from the 14 years of the film franchise, showing touching moments between Paul and his co-stars as they race cars and celebrate victories.
It shows how close the team—which has made the six released movies of the series—has become, before Paul's untimely death last weekend, when a car he was a passenger in crashed into a lamppost and burst into flames.
In one section of the video, Paul's long-time co-star, Vin Diesel, toasts his friends, saying: "The most important thing in life will always be the people in this room, right here, right now," before the cast, including Paul, clinks bottles.
The video is soundtracked by Skylar Grey's track "Coming Home," and ends with a picture of the actor posing by a car with the words "In Loving Memory."
Paul has left behind his 15-year-old daughter, Meadow, and his girlfriend Jasmine Pilchard-Gosnell.
A coroner has concluded that the deaths of both Paul and his business partner, Roger Rodas, who was driving, were an accident.
But investigators are currently looking into the cause of the single-car smash up, with speed believed to have been a factor.
The family and friends of the Hollywood star held a private memorial at the site of the crash in Santa Clarita, California, on Monday night, December 2, and a public memorial service is being planned for December 15.