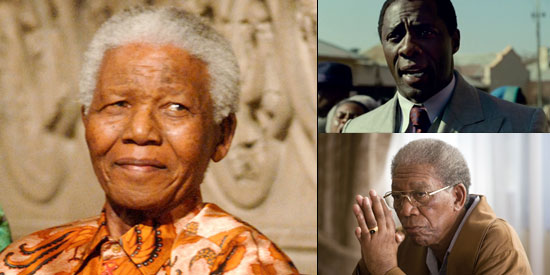 ---
Idris Elba is saddened by the loss "of one the greatest human beings" after learning that Nelson Mandela died on Thursday, December 5 (South Africa time).
The 41-year-old star plays the beloved South African civil rights activist and former president—who was imprisoned between 1962 and 1990 for his objection to the apartheid regime—in the biopic Mandela: Long Walk to Freedom.
Idris told the New York Daily News newspaper: "I am stunned at this very moment, in mourning with the rest of the world and Madiba's family.
"We have lost one of the greatest human beings to have walked this earth, I only feel honored to be associated with him. He is in a better place now.
"What an honor it was to step into the shoes of Nelson Mandela and portray a man who defied odds, broke down barriers, and championed human rights before the eyes of the world.
"My thoughts and prayers are with his family."
The star was left broken-hearted after filming scenes for Mandela: Long Walk to Freedom, and found it difficult to comprehend everything Mandela must have gone through in his life.
Idris found it particularly devastating filming Mandela, who was forced to miss the funeral of his son Thembi, who died in 1969, because he was imprisoned on Robben Island.
Speaking to BANG Showbiz just hours before Mandela's death at the UK royal premiere of the movie, in London's Leicester Square yesterday, Idris said: "His son dies while he is in prison, and he is not allowed to go to the funeral, and that was really challenging.
"It really broke my heart, and it was hard to film.
"[Playing Mandela] was one of the best performances for me I have ever tried to do, and I hope people really like it, I really do."
ADVERTISEMENT - CONTINUE READING BELOW
Idris wants audiences to remember where Mandela "came from" and give them a true representation of the man.
He added: "I wanted to explore Nelson Mandela's younger life. I didn't really know what he has done as an old man.
"I wanted to get the audience to understand this is what it came from, and he was just a human being and he had flaws and made mistakes, and wanted the audience to really understand that."
MORGAN FREEMAN. Morgan Freeman, who also played the South African leader in the 2009 film Invictus, also paid tribute to Mandela.
He described him as "a saint to many, a hero to all who treasure liberty, freedom and the dignity of humankind."
The multiawarded 76-year-old actor—who some mistakenly posted a picture of, next to tweets paying tribute to Mandela—added: "As we remember his triumphs, let us, in his memory, not just reflect on how far we've come, but on how far we have to go. Madiba may no longer be with us, but his journey continues on with me and with all of us."