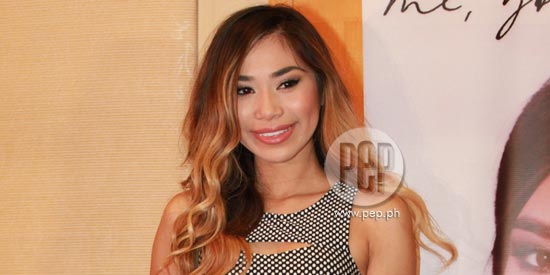 ---
Singing the Philippine national anthem during the Manny Pacquiao-Brandon Rios fight came as a surprise, said the American Idol Season 11 alumna Jessica Sanchez.
The Pinoy boxing champ asked the young Filipina-Mexican singer to sing both the National Anthems of America and the Philippines on Twitter days before his fight, in which she gladly responded.
Watch: Jessica Sanchez sings both U.S. and Philippine National Anthems
However, for the American-based singer, singing the "Star Spangled Banner" was easier than "Lupang Hinirang."
In fact, at the press conference organized by MCA Music earlier today, December 9, the 18-year-old singer owned up to the difficulty of studying the Philippine National Anthem.
Jessica said: "I had probably a couple of days, maybe two to three days, to rehearse the song.
"It was hard! I don't know if I should mention this.
"I know how proud you guys are of singing the anthem traditionally.
"But it kinda stressed me out a little bit."
It did not help that her own grandma was critical of her rendition.
"There were a couple [of lines] that my grandma said, 'You're not saying it right.'
"And they were so slight. I was like, 'Oh my gosh, how could it be so hard?'
"But I got them in the end, oh my goodness!"
Nevertheless, Jessica was glad most of the Filipinos liked her performance in Cotai Arena, Macau, on November 24.
She said, "I'm happy that everybody was okay with the way I sang it.
"I hope that I made you guys proud."
Because of this experience, Jessica said that she would want to record a Filipino song someday.
"I would definitely love to record some Filipino songs in the future.
"The language is beautiful.
"I just did the Philippine National Anthem at the Pacquiao fight, and that was awesome.
ADVERTISEMENT - CONTINUE READING BELOW
"I definitely would love to do some Filipino songs."
Earlier this year, the girl from Chula Vista, California, released her debut album titled Me, You & The Music under MCA Music.
The 13-track album includes her collaboration with American RnB recording artist Ne-yo—her debut single titled "Tonight."
SINGING FOR YOLANDA SURVIVORS. Meanwhile, after making Filipinos proud by pulling off "Lupang Hinirang" well, Jessica is back in the country to help the survivors of super typhoon Yolanda.
The young singer lent her voice to the inspiring song "Lead Me Home," which is the first track available in the forthcoming original cast recording of Heartbeat of Home.
Jessica said she promptly agreed to record the song for a cause because, "Of course, this is an amazing opportunity and I love to.
"It just so happened that we recorded the song and they want to release it early for victims of the typhoon.
"I'm completely all for it.
"You guys are amazing for doing this.
"All of the proceeds go to that cause, to the victims of the typhoon."
Heartbeat of Home is scheduled to be released in February 2014.
However, Decca and MCA Music labels have decided to release the single "Lead Me Home" earlier to raise funds for the typhoon survivors.
The single will be available in online music stores, www.spinnr.ph and iTunes.
Every $0.90 from each single sold will be donated to Red Cross to support the Yolanda survivors.
"Lead Me Home" is also part of the inspirational album called Song for the Philippines, a 39-track compilation album available online.
It includes songs by Beatles, Beyonce, Bob Dylan, Eminem, Bruno Mars, and U2.
MORE CHARITABLE ACTIVITIES. Apart from promoting the song she recorded for the Yolanda survivors, Jessica also visited some provinces to help Starkey Hearing Foundation with its hearing mission in the country.
ADVERTISEMENT - CONTINUE READING BELOW
The charitable institution gave hearing aids to people in General Santos City, Lipa City, Batangas, and Manila.
When asked how her trips have been, Jessica replied with a smile, "It's been honestly amazing," to describe as well the people she met in her charity work.
She intoned, "We've been driving in these places and I look at the country, I'm like, it's so green and it's so beautiful.
"On top of that, people were so welcoming and so kind.
"The Philippines is just amazing. I'm having an awesome trip so far."
Jessica summed up: "I'm happy to give back to my people anyway that I can."