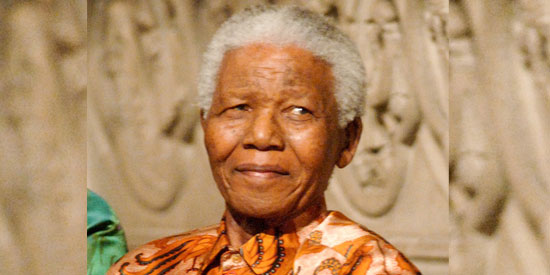 ---
Bono, Naomi Campbell, and Charlize Theron attended Nelson Mandela's memorial service on Tuesday, December 10 (South Africa time).
The U2 frontman, British supermodel, and Monster actress joined political leaders from around the globe to pay tribute to the former South African president—who died last week at age 95 following a long illness—at a service in Johannesburg.
South Africa native Charlize—who first met the anti-apartheid campaigner in 2004—was one of the first famous faces to arrive at the FNB Stadium in Johannesburg, and blew kisses as she was cheered by the waiting crowd.
Talk show host Oprah Winfrey was due to attend the service, but reportedly failed to arrive.
The service was delayed by an hour owing to bad weather, prompting Cyril Ramaphosa, the Deputy President of the ruling ANC party, to say in his opening address: "In our tradition, when it rains when you are buried, your gods are welcoming you to heaven."
US President Barack Obama arrived an hour late for the service, but still received prolonged applause when he paid an emotional tribute.
He said: "To the people of South Africa—people of every race and walk of life—the world thanks you for sharing Nelson Mandela with us.
"His struggle was your struggle. His triumph was your triumph.
"Your dignity and hope found expression in his life, and your freedom, your democracy is his cherished legacy.
"Mandela taught us the power of action, but also ideas; the importance of reason and arguments; the need to study not only those you agree with, but those who you don't."
Other speakers at the service included South African President Jacob Zuma (who was booed whenever he appeared on the stadium's big screen), Archbishop Desmond Tutu, British Prime Minister David Cameron, and former French President Nicholas Sarkozy.
ADVERTISEMENT - CONTINUE READING BELOW