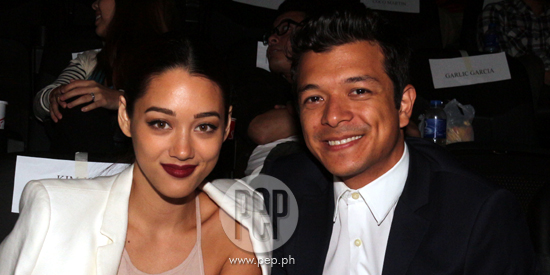 ---
"Christmas is still a time for family," says lifestyle-TV host and fashion blogger Kim Jones.
The beautiful Kim, who is also the fiancéé of actor Jericho Rosales, still believes in celebrating the holiday season despite the shadow that super typhoon Yolanda has cast over the country.
However, she says, it's best to keep parties simple and to focus on spending quality time with family and friends.
"We still want to have that family get-together and everything.
"Echo and I are working hard to continue raising funds."
Echo is, of course, the name by which Jericho is more often called by friends and associates. The two have been working to gather funds for Yolanda survivors.
"So, we're gonna keep Christmas, but were gonna tone it down a bit and whatever we save will go to donations."
She also shares that she and Echo—who are known to love surfing—are planning a quick beach getaway to La Union.
WEDDING PREPS. Such is the attachment of Kim and Jericho to the sea that they're eyeing a beach wedding in the middle of 2014. They got engaged in August 2013.
In this exclusive interview with Pep.ph (Philippine Entertainment Portal), Kim admits that their wedding preparations are now behind schedule.
"It's sort of being on hold since Yolanda hit. Yolanda had that power to stop everything in its tracks.
"It's more of the reminder to make every minute count and to be grateful for every moment."
Every bride-to-be's main concern is finding the perfect wedding dress, but Kim has yet to choose one for her big day.
"Not yet. I really want a local designer though. I really want to support local designers.
"So, you know, I'm meeting a few designers that I feel will match my aesthetic preference."
ADVERTISEMENT - CONTINUE READING BELOW
At the moment, Kim says that she and Jericho have already picked the caterer for the occasion and are currently finalizing other details.
"We have our entourage. We have our menu sort of set up. We're still finalizing our guests.
"Obviously, the Valencianos are very close to us. They're pretty much like family, so they're gonna be there." Angeli Pangilinan-Valenciano of Genesis manages Jericho's career.
"I think we're a bit behind. It's a few months away, but it's okay.
"We're not worrying about the preparation. The wedding is gonna happen," she beams.
YOLANDA EFFORTS. As it is, the couple have been busy with their work commitments, as well as their fundraising efforts for the survivors of Yolanda.
They are among the first celebrities who immediately responded to the call for emergency aid in the Visayas.
Kim put up an online auction, while Jericho mounted a pop-up store, where they sold their personal items to raise money for their chosen aid organization.
"We were able to raise P250,000. We are planning to donate through Operation Smile in New Life Church." New Life Church in Alabang is where the couple attend church service.
"We chose them basically because they're gonna focus on not only providing aid but providing counseling, spiritual mentorship, really helping them rebuild their lives for the long term, not just for now," she reveals.
Kim adds that she and Jericho are planning to visit the affected areas in the Visayas and help typhoon survivors build their homes.
She says, "We're planning to go, probably in a few months when things have sort of settled down there and we can actually help. It's a little sensitive at the moment.
"We'll go when we're ready to rebuild. We'll help build houses. It's more lasting.
ADVERTISEMENT - CONTINUE READING BELOW
"I think it's great that people are kicking into action now internationally and locally.
"But I think what really needs to be done is... urban developers and planners need to be able to plan how they're gonna rebuild the city."
Kim is certain that she and Jericho will be on the ground, helping typhoon survivors, sometime next year.
"If I build one house, I'll be happy. Echo and I really have it in our hearts to actually go there and visit.
"I know he would love to talk to them and I would love to help them have a home again."