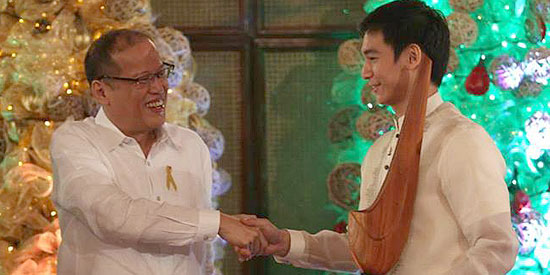 ---
Apart from playing basketball, hosting on television, serving as barangay kagawad, and doing advertorials, Chris Tiu also owns and manages a number of businesses.
The milk tea shop Happy Lemon that he started in 2011 is now a chain with over 20 branches all over the country.
Recently, he opened Tampopo, a ramen and tonkatsu specialty restaurant in Greenhills, San Juan, which will soon have a branch in Bonifacio Global City, Taguig City.
How does Chris Tiu manage his time?
"Hindi naman ako involved sa day-to-day operations. Of course, when you're starting up any business, you're hands-on.
"There are overlaps in the departments. Sometimes you do a little of everything, from the operations to the marketing, to business development, accounting, and so on.
"But you know, when you get bigger, when the organization gets bigger, the business starts running, you make it more structured.
"That way you're not necessarily involved too much with the day-to-day decisions, operations, because it's really time-consuming.
"That's why strategic partnerships are very important."
Chris lays out his daily routine.
"Mornings are for practices, PBA training 'yan, on non-game days.
"Mornings are for practices. Afternoons are either for taping, which is not too often naman, maybe once a week." Chris hosts the weekly infotainment show, iBilib, on GMA.
"And then the rest is for business meetings, events, shoots, doing favors, making appearances, speaking…"
CHRIS, THE HUSBAND. Chris got married on September 2013, in Vancouver, Canada, to his longtime girlfriend, Clarisse Ong.
His multifarious activities begs the question: does he still have time for his wife?
"Oh, yeah, of course, there's always time for that.
"Sometimes if I don't have any meetings in the afternoon, I go home for lunch, we'll have lunch together, and dinner.
"Dinner time, usually we have dinner together. Cause my tapings naman hindi naman buong araw yun, e, sandali lang yun."
ADVERTISEMENT - CONTINUE READING BELOW
Are they planning to have kids any time soon?
Chris says, "Whatever God's will. If God wills it, then so be it, you know.
"It's a great blessing. I mean, we'd love to have kids, of course.
"To have kids is a blessing from God, and it's a gift."
TOYM. Chris received two prestigious recognitions this 2013.
Last November 12, he received the TAYO ASEAN Award from the Vietnam Youth Council. His younger brother, Charles, went on his behalf to the awarding ceremonies in Hanoi.
On December 19, he was honored with the TOYM (The Outstanding Young Men) Award for his contributions in "Youth Leadership Development."
He received the award from President Noynoy Aquino at the TOYM 2013 awarding ceremony in Malacañang.
Chris posted a photo of his TOYM plaque on his Instagram account with this caption: "Most prestigious award in my lifetime. I am extremely humbled and grateful!
"Never imagined that I would be cited among the elite list of awardees in the 54-year history of TOYM.
"This inspires me further to go out there and do what I love, keeping in mind the core values of excellence, integrity, and service to our community.
"Big thank you to all those who made this possible. You know who you are. To God be the glory!"
HANDLING THE FAMILY BUSINESS. Two years ago, Chris found himself at the crossroads of whether to continue playing basketball or finally joining the family business.
Chris's family owns the Sterling Bank of Asia; the publicly listed steel firm TKC Steel Corporation; One Mega Group, which publishes Mega, Meg, Inside Showbiz, among others; plus other businesses.
He chose basketball. And he has since been drafted by the Philippine Basketball Association, where he currently plays for the Rain or Shine Elasto Painters.
Now that he's married, is there any pressure to join the family business?
ADVERTISEMENT - CONTINUE READING BELOW
"Sa ngayon, hindi pa naman kasi [my dad] knows I cannot be full-time in the family businesses [because] of all my other commitments.
"So, I'm doing my own businesses in the meantime, and he understands that.
"Maybe when I'm done with basketball, maybe I can help out. But for now, hindi muna.
"And talking about other ventures, [there's also] food, maybe eto muna—these ones, these four.
"I have also investments in the advertising business. Maybe, service industry. We have food, and then we have advertising.
"Right now, for food, it's getting very competitive. Maybe, we'll see what will happen there.
"I'm looking for other opportunities in other sectors, as well. Just to diversify and really have a better business potential."