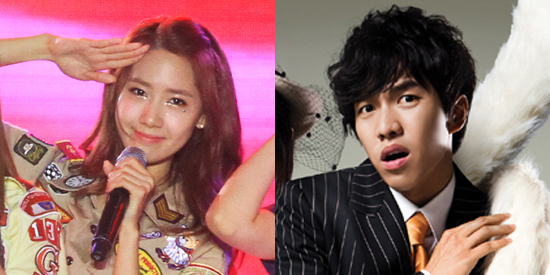 ---
Korean news agency Dispatch confirmed that Lee Seun Gi and Yoona are dating and released photos of the two going out in a "Cinderella date."
According to the report, YoonA went out on a date with Seung Gi on October 8, 2013, after the latter's concert in Japan.
Seung Gi was spotted heading to an apartment in Samseong-dong in Seoul where he picked up YoonA.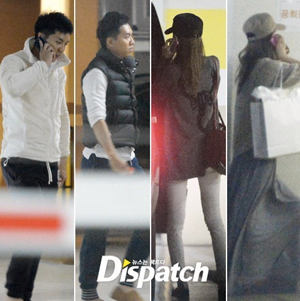 Courtesy of Dispatch News Korea
The report added that the two K-pop stars enjoyed an hour-long date at the Han River.
After their date, Seung Gi dropped off his date back to her apartment and YoonA was reportedly seen carrying a shopping bag with his gift he bought for her in Japan.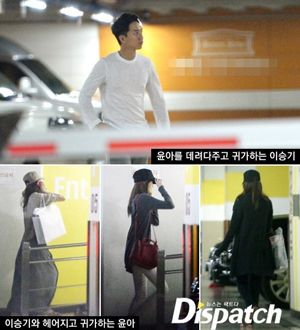 Courtesy of Dispatch News Korea
ADVERTISEMENT - CONTINUE READING BELOW
The Korean news agency followed Seung Gi and YoonA for three months since October and reported that their date doesn't go past 1 a.m.
Seung Gi and YoonA's talent agencies did not hesitate to confirm that the two K-pop stars have been seeing each other.
According to News.Nate.Com, Seung Gi's representatives confirmed that the two have been dating, but did not disclose any information about their relationship and instead asked fans to support the couple's budding romance.
Allkpop.com reported that YoonA's agency, SM Entertainment, also gave its comment to Osen News, as translated in English: "The two are in the beginning stages of getting to know each other."
Seung Gi has also stated in the Korean talk show Strong Heart that YoonA is his ideal type.
While most idol group members have a "dating ban" included in their contracts, it's safe to assume that members of Girls' Generation are now allowed to go on dates.
Filipinos are familiar with Seung Gi because two of his dramas were aired on Philippine TV—Shining Inheritance on GMA Network and My Girlfriend Is A Gumiho on ABS-CBN.
YoonA is currently doing a drama series titled Prime Minister and I.
Meanwhile, Girls' Generation is currently preparing for their 2014 comeback in the Korean music scene.
During their Marchen Fantasy concert for the SM TOWN WEEK Winter Music Festival, held last December 22, lucky fans were able to watch the girl group's music video teaser for their comeback.
ADVERTISEMENT - CONTINUE READING BELOW
According to reports, Girls' Generation will return in the Korean music scene by mid-January.
Girls' Generation is known for their chart-topping hits "I Got A Boy," "The Boys," "Gee," and "Tell Me You Wish (Genie)."