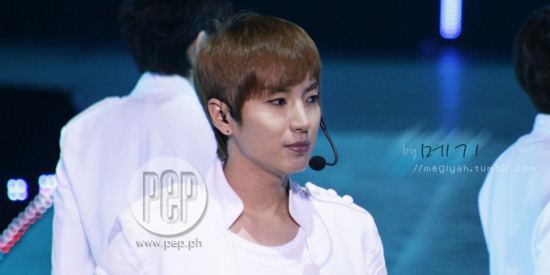 ---
The father and grandparents of Super Junior member Leeteuk were found dead yesterday morning, January 6 (South Korea time), at their home.
Park Jeong Su, popularly known as Leeteuk, is currently serving his two-year mandatory military service when he heard the news.
Allkpop.com reports that the singer immediately went home after hearing about the tragic news.
His sister, Park In Young, also halted her activities and rushed to the scene.
Earlier reports said that Leeteuk's father, Park Yeong In, 57, and grandparents, Park Hyeon Seok and Cheon Kyeong Tae, died in a fatal car crash.
However, recent reports on the cause of their deaths revealed that it wasn't a car accident, but a possible suicide as their bodies were discovered at their home.
A representative of Dongjak Fire Station in Seoul told MBN TV, as translated in English: "The situation related to Leeteuk's father and grandparents are currently being reported as a car accident.
"However, this is different from what we know.
"This was not a car accident; we are looking at the possible case of suicide.
"The three of them were all discovered at their house."
Dongjak Police Station supported this claim and told news agency TV Report, as translated in English: "We moved at 9:07 a.m. on January 6 and found the three people deceased at their home. Therefore, we are looking into possible case of suicide."
Another report from Allkpop.com said that police and fire department representatives discovered that the grandparents of Leeteuk were found dead on their beds, while his father was found hanged.
ADVERTISEMENT - CONTINUE READING BELOW
The police believe that Leeteuk's father decided to take his parents with him.
As translated in English: "We believe it to be suicide when we looked at the evidence like rigor mortis, discovery of a suicide note, and the hanging."
Allkpop.com added that, according the Park family, Leeteuk's father had been taking care of his parents who were suffering from advanced Alzheimer's disease.
The report also said that members of the Park family mentioned that Leeteuk's father was also suffering from depression.
The funeral for Leeteuk's father and grandparents will take place on January 8th at the Korea University Medical Center's funeral parlor.
Allkpop.com cited a representative from the funeral parlor: "The memorial altar for the three deceased was arranged for 1:30 p.m. (South Korea time). The chief mourner is the younger sibling of Lee Teuk's father, Park Yeong In."