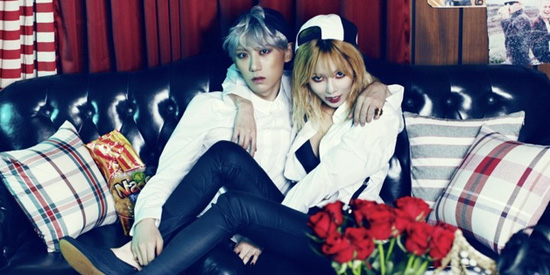 ---
4minute's HyunA and B2ST's Hyunseung, collectively known as Trouble Maker, have been subjects of "malicious rumors" spreading earlier today, January 10.
According to MWAVE, a false report had claimed that HyunA is two weeks pregnant with Hyunseung's child, and that the former was spotted at a gynecologist's office for a check-up.
The report also contained a fabricated statement from Cube Entertainment, which manages the careers of both artists, stating that the couple will be keeping their baby because they don't believe in abortion.
Subsequently, Allkpop.com reported Cube Entertainment has released their official statement regarding the matter.
It read: "We discovered the content containing the malicious rumors about HyunA and Hyunseung this morning.
"The rumors were disguised as a news article, making it easy to accept as facts by Netizens who may come across it.
"They even made another 'news article' containing a fake response from us [the agency]."
Another representative from Cube Entertainment mentioned their plan of pursuing legal actions.
"As the related rumor spread, we were contacted with a lot of questions.
"We decided that we are unable to sit and watch the defamation of character of these young artists.
"We decided to request a police investigation and will take legal action."
The K-Pop duo is known for their risque themes as seen on their 2011 self-titled chart-topping hit "Trouble Maker" and their 2013 hit single titled "Now."