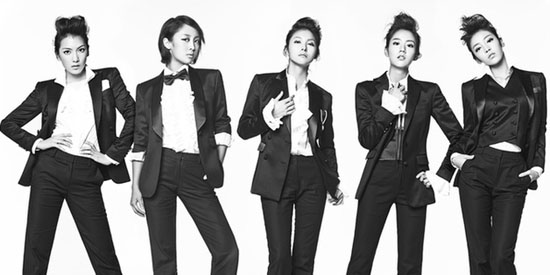 ---
The Five-member K-pop group KARA is on the brink of disbandment with Nicole and Ji Young's announcement that they will not be renewing their contracts with DSP Media this year.
In October last year, DSP Media confirmed through a press release that Nicole Jung does not intend to renew her contract this January.
The press release stated, as translated in English, "Nicole has revealed that she has no intention to renew her contract with DSP and thus her contract will expire in January as originally scheduled."
A recent article in Allkpop.com reported that Nicole will wrap up her activities with KARA this February as she is scheduled to leave for the United States to study.
After the confirmation of Nicole's departure from KARA, eyes are now turned to Kang Ji Young whose father, Kang Gun Wook, announced on Tuesday, January 15, that his daughter does not intend to renew her contract with DSP Media.
STATEMENT OF JI YOUNG'S FATHER. The news agency Sports Chosun had an exclusive interview with Ji Young's father via telephone.
According to the report, Kang Gun Wook stated (content translated in English): "We have sent the contents certification. Before that, we notified DSP Media that we will send it.
"While we are separating, I thought it was right that we end on good terms so that is why we proceeded in that manner."
Ji Young's father added, "Before we sent the contents certification, we expressed our stance numerous times. The agency has not shown any particular reaction to it.
ADVERTISEMENT - CONTINUE READING BELOW
"Truthfully, we thought that when DSP Media released its statement about Nicole, there would be something about Ji Young too. It may be that the agency still has some lingering attachment to Ji Young."
Kang Gun Wook also said that his daughter wants to pursue solo activities after her contract expires, "Ji Young had a hard time while promoting as KARA.
"Since she was in the group as the youngest for seven years, she couldn't do things she wanted. She is still young, and has a lot of things she wants to do.
"Since she had to fulfill her duties as the youngest, Kang Ji Young couldn't challenge new things or purse her dreams individually."
He continued, "While she could certainly earn a lot of money as part of KARA in the next 2-3 years, money is not what is important.
"Because I thought I should help my daughter do what she truly wanted too, we decided to leave DSP."
Kang Gun Wook also said that her daughter aims to become an actress in the future, "It is not time to reveal future plans as there is still time left on the contract, but it is true that Ji Young has dreams of being an actress."
STATEMENT OF DSP MEDIA. Meanwhile, DSP Media confirms Ji Young's departure from KARA with their official statement posted by Allkpop.com.
The talent agency said that they did not receive any letter or notification from Ji Young's camp saying that she doesn't want to extend her contract but instead, a letter regarding further negotiations about Ji Young's position.
ADVERTISEMENT - CONTINUE READING BELOW
DSP Media stated, "Hello. This is DSP Media. We wanted to inform you of our official position on the article concerning KARA's Jiyoung's contract expiration which was released on the morning of the 15th.
"Jiyoung still has time and schedules under DSP Media until her contract expires in April, and like reported earlier, she has expressed her wishes to study abroad while in negotiations with DSP.
"We did not receive a letter in the form of certification of contents like mentioned [in the report], but rather a notice containing her position.
"The position was that 'We will not extend the contract without a new negotiation', so in time, we were planning to have further negotiations with Jiyoung's side about extending the contract."
DSP Media further stated (portion of the notification sent to Allkpop.com), "Kang Ji Young will not extend her exclusive contract with DSP Media unless there is a new negotiation, we are officially informing you of this through this notice.
"However through the article that was released today, we have once again confirmed Jiyoung's intent, and received word that she still wishes to leave KARA for schooling and to walk the path of becoming an actress.
"Thus, starting after April, the team will reorganize with Gyuri, Seungyeon, and Hara as the center to carry on future schedules. Thank You."
KARA will return to the K-pop music scene later this year with the remaining members—Park Gyuri, Han Seungyeon, and Goo Hara. KARA is known for their chart-topping hits "Wanna," "Mister," "Step," "Lupin," and "Pandora."
ADVERTISEMENT - CONTINUE READING BELOW