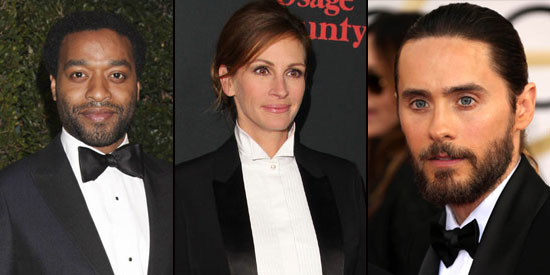 ---
Stars react to their Oscar nominations.
For Julia Roberts, her Oscar nomination feels like a "thrilling bonus."
The 46-year-old actress—who took home the Best Actress trophy in 2001 for her role in Erin Brockovich—is overjoyed at receiving a Best Supporting Actress nod for her portrayal of a strong-willed woman who goes back to her childhood home and her dysfunctional mother when a crisis brings her family back together in August: Osage County.
The brunette beauty told People.com: "This was certainly a once-in-a-lifetime experience. And the recognition from it is an absolutely thrilling bonus. I simply could not be more excited right now."
AMY ADAMS. American Hustle star Amy Adams, who is nominated for Best Actress, echoed Julia's sentiment.
She said: "I'm very honored to be nominated alongside such inspiring actresses. Congratulations to the cast and crew of American Hustle and Her, two films that I'm incredibly proud to be a part of."
The 39-year-old star faces stiff competition from three-time Oscar winner and Julia's co-star Meryl Streep, Cate Blanchett for Blue Jasmine, Sandra Bullock for Gravity, and Dame Judi Dench for Philomena.
JUDI DENCH. Judi, 79, said: "This is just the loveliest news. I'm so happy for everybody involved, and so proud to have been part of the wonderful experience that Philomena has been."
MICHAEL FASSBENDER. Elsewhere, Irish star Michael Fassbender, 36, is thrilled to have been recognized for his work in 12 Years a Slave. He is nominated for Best Supporting Actor.
He said: "I'm really chuffed with the Oscar nomination especially being recognized alongside such great actors. It's a real honor."
ADVERTISEMENT - CONTINUE READING BELOW
ALFONSO CUARON. Director Alfonso Cuaron, whose movie Gravity racked up 10 nominations, admitted he is especially happy for Sandra.
The Mexican moviemaker, who is nominated this year for Best Director, said: "These nominations are not just about single achievements, but rather the collective effort of hundreds of dedicated artists who made this dream a reality...
"I am particularly moved by Sandy's nomination. She is the heartbeat of our film. She immersed herself in the part.
"And I thank her for her grace, her trust and her dedication to finding the truth of this character."



JARED LETO. Jared Leto, on the other hand, is celebrating his Oscar nomination with vegan pancakes.
The 42-year-old star is over the moon at receiving a Best Supporting Actor nod for his portrayal of HIV positive transsexual Rayon in Dallas Buyers Club.
However, his somewhat unremarkable plans to celebrate include going back to bed because the nominations—which were revealed at 5:38 a.m. Californian time today (January 16, U.S. time)—were announced so early in the morning.
The newly-minted Oscar nominee quipped to The Hollywood Reporter: "I'm going back to bed and then wake up and make vegan pancakes.
"I thought I didn't get the nomination because I woke up and [mistakenly] thought it was getting light outside.
"But then I got a knock on the door from Emma Ludbrook, who produced [documentary film] Artifact with me."
Jared, who won a Golden Globe award for his performance, will be in good company at the Oscars, as his co-star Matthew McConaughey is up for Best Actor for his portrayal of AIDS victim Ron Woodroof.
ADVERTISEMENT - CONTINUE READING BELOW
JONAH HILL. Elsewhere, The Wolf of Wall Street star Jonah Hill, 30, has earned his second Academy Awards nomination for Best Supporting Actor and he admits he is in "complete and total shock."
He said: "I honestly was not expecting this, on a level you can't even imagine. Again, I'm clearly in shock. I didn't have a plan for celebrating today because I truly did not expect any of this!"
STEVE MCQUEEN. British filmmaker Steve McQueen is also honored to receive nine nominations for his riveting slavery drama 12 Years A Slave, including Best Picture and Best Actor for leading man Chiwetel Ejiofor.
He enthused: "I'm extraordinarily happy for all the cast and crew of our 12 Years A Slave family. This has been an amazing ride and to receive nine nominations from the Academy is testament to all of the hard work."
CHIWETEL EJIOFOR. Chiwetel, meanwhile, was "quite sick in bed" when he found out he was nominated for an Oscar.
The 36-year-old actor, who is up for Best Actor at the ceremony in Los Angeles on March 2, really deserves to take home the trophy because he is "an actor's actor" and has been a struggling for years, according to his sister Zain Asher.
The emotional CNN correspondent said: "He works so hard at this and it's taken 20 years to get this kind of recognition. It really is well deserved.
"He doesn't do it for the money, he doesn't do it for the nominations or the awards, it really is in his blood and is a true passion of his."
ADVERTISEMENT - CONTINUE READING BELOW
Zain revealed that her brother's success is bitter sweet as their father was killed in a car crash 14 years ago.
She said: "Everyone is so excited, so emotional, so overwhelmed at this because we have been waiting for this a long time.
"It is kind of a sad day as well because my father isn't alive anymore so he can't see this.
"When Chiwetel was 12 years old, he was in a car accident with my father and everybody in the car died except for Chiwetel.
"And so you know that chance at life he was given, he has gone on to make the most of it."
She added: "He wasn't a normal kid in the sense that he wasn't always going out partying.
"It really was from morning until night, Shakespeare, reading plays, reciting stuff and my mother would always get upset because he would scribble Shakespeare on the walls of his bedroom. My mother would have to go and paint over it all the time.
"It was just hard work and dedication."
The awards will be broadcast live from Los Angeles on March 2, 2014.