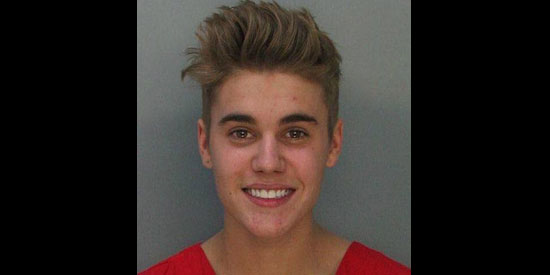 ---
Justin Bieber was charged with drunk driving, resisting arrest, and drag racing.
The "Baby" hitmaker was arrested in Miami Beach Thursday morning, January 23 (U.S. time), after being stopped for allegedly drag racing in a rented yellow Lamborghini.
Soon after, he failed a sobriety test, is accused of disobeying officer's orders, and was found to have an expired licence.
According to reports, the pop star's entourage used their cars to block traffic on Pine Tree Drive at 26th Street, near the Miami Beach Hebrew Academy, so Justin could race his car.
Speaking at a press conference, Miami Beach Police Chief Raymond Martinez said Bieber "had been smoking marijuana and he did consume a beer."
He added: "During the arrest, Mr. Bieber made statements that he had consumed alcohol and had been smoking marijuana and had consumed prescription medication."
According to police reports, which Miami Beach Police posted on their Twitter account, the officer "immediately smelt an odor of alcohol emanating from the driver's breath" and noticed his "bloodshot eyes" and he had "slow deliberate movement and a stupor look on his face."
Raymond said Justin had been very cooperative once he got to Miami-Dade County Jail where he had his mugshots and fingerprints taken.
The 19-year-old singer had earlier resisted arrest without violence but verbally insulted the police who had apprehended him, saying, "Why the f**k are you doing this?" before stepping out of the vehicle.
As an officer searched Justin for weapons—a customary action—he began to become aggravated once again.
ADVERTISEMENT - CONTINUE READING BELOW
He said: "I ain't go no f***ing weapons. Why do you have to search me? What the f**k is this about?"
Justin was thereafter warned to face forward and place his hands on the hood of the car, but the singer dismissed the orders and was consequently arrested.
If found guilty of all the charges, the teenager could face up to six months in jail, 50 hours of community service, have his driving privileges suspended for some time, and be forced to pay several fines.
Meanwhile, Justin, who cried his eyes out after appearing in court in an orange prison jumpsuit, despite smiling in a mugshot, allegedly told police officers that his mother supplied him with prescription drugs.
The singer, who admitted to smoking marijuana and drinking beer before getting behind the wheel, claimed his mother Pattie Mallette also gave him anti-anxiety medication, according to TMZ.com.
Justin's father, Jeremy Bieber, 38, was reportedly among the 19-year-old star's entourage when he was taken into police custody.
A source told the MailOnline website: "Jeremy was in an SUV next to Justin when the cops turned up.
"It's fair to say Jeremy is not a great influence—he certainly enjoys and takes advantage of his son's money and lifestyle.
"Justin's manager Scooter [Braun] has been trying to get Justin help for the past two weeks, but no one's helping.
"Of course people care about Justin, but we are in a very difficult situation."
Jeremy also allegedly partied with his son and rapper friend Khalil, who was also arrested, at a nightclub hours before the incident.
ADVERTISEMENT - CONTINUE READING BELOW
Pattie and Jeremy, who split when Justin was 10 months old, have yet to comment on the incident.