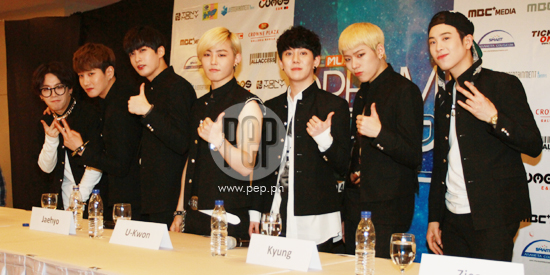 ---
After two years, the seven-member South Korean boy group Block B is back in the Philippines to perform for their Filipino fans.
Block B—composed of Lee Taeil, Lee Min Hyuk a.k.a. 'B-Bomb,' Ahn Jaehyo, Kim Yu-Kwon, Park Kyung, Woo Ji Ho a.k.a. 'Zico,' and Pyo Ji Hoon a.k.a 'P.O.'—will be part of the Dream K-Pop Fantasy Concert 2 at the SMART Araneta Coliseum on Sunday night, February 2, along with Super Junior-M, BAP, AJAX, A Prince, BTOB and Han Seungyeon of KARA.
This is the group's second time in the country following their first visit in August 2011 for the Visit Korea: Cultural Concert at the SM Mall of Asia Arena.
"It's our second time in the Philippines and we saw lots of fans in the airport in Manila," said Jaehyo, whose answer was translated to English during the group's press conference held earlier, February 1, at the Crowne Plaza Hotel in Pasig City.
The 23-year-old singer also added that their Filipino fans are very "passionate" and very "lovely."
What to expect from their upcoming concert?
Taeil said, "We like to show what we weren't able to show last time in 2011.
"We would like to show the spirit of freedom and Block B-ish vibe in the concert."
The guys were also asked about what they do during their free time.
The 21-year-old Kyung answered, "When we have free time, we like to spend time with the members.
"We watch movies together or they they sleep for relaxation."
ADVERTISEMENT - CONTINUE READING BELOW
Since their 2013 comeback in the K-Pop music scene, Block B has become one of the idol groups to watch out for. Their latest single "Very Good" was well received by K-Pop fans and even topped South Korea's digital-single charts.
About the song, B-Bomb mentioned that it's also their favorite.
"After our comeback, the song 'Very Good' is our favorite because with this song, we were able to take first place for the first time."
Asked what sets them apart from the other K-Pop groups, the 21-year-old Zico replied, "Each of the members have different characteristics and they are very appealing.
"We try to enjoy every performance that we have, and we try to interact with our fans on stage as much as we can."
After the concert, the group looks forward to their first solo concert, and visiting more counties.
Taeil said, "We like to travel in different countries like the Philippines or other countries.
"We look forward to having a concert in [South] Korea."