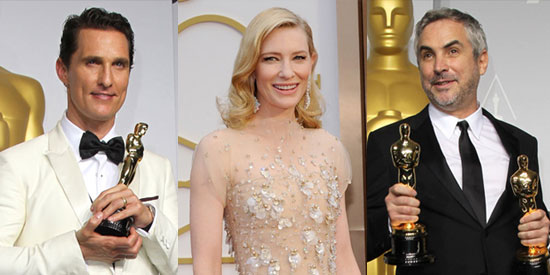 ---
12 Years A Slave, an epic film about one man's fight for survival and freedom, was named Best Picture at the 86th Academy Awards.
One of the film's producers is actor Brad Pitt, who is also part of the cast.
This film by Steve McQueen also won Best Supporting Actress for Lupita Nyong'o and Best Adapted Screenplay for John Ridley.
The acting awards came as a no surprise as those who expected to win took home the Oscars.
Aside from Lupita, the other winners were Matthew McConaughey, Best Actor for Dallas Buyers Club; Cate Blanchett, Best Actress for Blue Jasmine; and Jared Leto, Best Supporting Actor for Dallas Buyers Club.
Except for Cate, the acting winners are first-timers.
Cate won her first Oscar in 2005 as Best Supporting Actress for The Aviator.
The Best Director award, on the other hand, went to Alfonso Cuaron for his work in the sci-fi drama Gravity, which took home the most number of trophies—eight.
Aside from the Best Director trophy, Cuaron also won for Best Editing with his co-editor Mark Sanger.
Gravity also won for Best Cinematography, Best Production Design, Best Visual Effects, Best Original Music, Best Sound Editing, and Best Sound Mixing.
The 86th Oscar Awards was hosted by Ellen DeGeneres.
Presenters include last year's winners: Daniel Day Lewis, Jennifer Lawrence, Christophe Waltz, and Anne Hathaway.
Other stars who presented were: Harrison Ford, Kevin Spacey, Bradley Cooper, Zac Efron, Emma Watson, Joseph Gordon-Levitt, Naomi Watts, Kerry Washington, Matthew McConaughey...
Kim Novak, Kate Hudson, Jason Sudeikis, Sally Field, Jim Carrey, Chaning Tatum, Ewan McGregor, Viola Davis, Tyler Perry, Brad Pitt...
Michael B. Jordan, Kristen Bell, Chris Hemsworth, Charlize Theron, Amy Adams, Bill Murray, Amy Adams, Gabourey Sidibe, Whoopi Goldberg, Jennifer Garner...
Benedict Cumberbatch, Glenn Close, Goldie Hawn, John Travolta, Jessica Biel, Jamie Foxx, Robert De Niro, Penelope Cruz, Angelina Jolie, Sidney Poitier, and Will Smith.
ADVERTISEMENT - CONTINUE READING BELOW
Performers include Bette Midler, Pink, Idina Menzel, Pharell Williams, and U2.
The awarding ceremonies was held at the Dolby Theatre in Hollywood, California, earlier today, March 3 (Sunday evening, March 2, in the U.S.).
Here is the complete list of winners in the 86th Academy Awards:
Best Picture - 12 Years A Slave
Best Actor - Matthew McConaughey, Dallas Buyers Club
Best Actress - Cate Blanchett, Blue Jasmine
Best Director - Alfonso Cuaron, Gravity
Best Supporting Actor - Jared Leto, Dallas Buyers Club
Best Supporting Actress - Lupita Nyong'o, 12 Years A Slave
Best Adapted Screenplay - Spike Jonze, Her
Best Adapted Screenplay - John Ridley, 12 Years A Slave
Best Foreign Language Film - The Great Beauty (Italy)
Best Film Editing - Alfonso Cuaron and Mark Sanger, Gravity
Best Cinematography - Emmanuel Lubezki, Gravity
Best Production Design - Catherine Martin and Beverley Dunn, Gravity
Best Visual Effects - Gravity
Best Original Song - "Let It Go" from Frozen (Music and lyrics by Kristen Anderson-Lopez and Robert Lopez)
Best Original Music - Steven Price, Gravity
Best Sound Editing - Gravity
Best Sound Mixing - Gravity
Best Costume Design - The Great Gatsby
Best Makeup & Hairstyling - Dallas Buyers Club
Best Documentary Feature - 20 Feet From Stardom
Best Documentary Short Subject - The Lady in No 6: Music Saved My Life
Best Live Action Short Film - Helium
Best Animated Feature Film - Frozen
Best Animated Short Film - Mr. Hublot