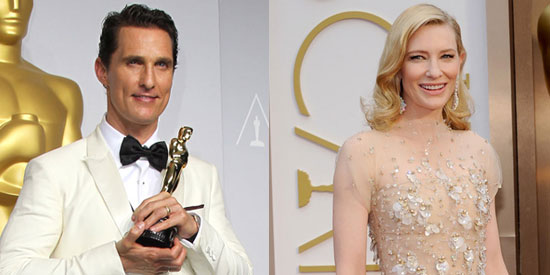 ---
Matthew McConaughey dedicated his Best Actor Oscar to God, while Best Actress winner Cate Blanchett paid tribute to all the other nominees as she was handed her award.
Matthew was delighted to accept the trophy for his role in Dallas Buyers Club—which saw him lose 50 lbs. to play A.I.D.S. patient Ron Woodroof— and kissed his wife and hugged fellow nominee Leonardo DiCaprio as he went to accept the award.
He said: "First off, I want to thank God, because He's the one I look up to, He's graced my life with opportunities, which I know are not of my hand or any other human hand.
"He has shown me that it's a scientific fact that gratitude reciprocates.
"In the words of the late [British actor] Charlie Laughton, who said, 'When you got God you got a friend and that friend is you.'"
Mathew then went on to thank his family, including his mother, Mary; his father, James; his wife, Camila Alves; and their three children—Levi, five; Vida, four; and Livingston, 14 months.
He added: "To my family, that's who and what I look forward to.
"To my father, I know he's up there right now with a big pot of Gumbo, he's got a lemon meringue pie, he's probably up there in his underwear, he's got a cold can of Miller lite and he's dancing right now.
"To my dad, you taught me what it means to be a man, to my mother, who's here tonight, you taught me and my two older brothers, demanded, that we respect ourselves.
"What we in turn learned was, we were then better able to respect others."
Matthew, 44, also thanked his castmates, including Jared Leto, who earlier in the night won Best Supporting Actor for his role in the same movie.
ADVERTISEMENT - CONTINUE READING BELOW
He said: "Thank you to the other nominees, all these performances were impeccable in my opinion. I didn't see a false note anywhere.
I want to thank Jean-Marc Vallée, our director. I want to thank Jared Leto and Jennifer Garner, who I worked with daily."
CATE BLANCHETT. Cate Blanchett, on the other hand, was named Best Actress at the Oscars tonight, March 2 (U.S. time).
The Australian star picked up the trophy for her role in Woody Allen's Blue Jasmine and paid tribute to all the other nominees as she was handed her award.
She said: "As random and as subjective as this award is, it means a great deal in a year, yet again, of extraordinary performances by women.
"Amy Adams, everything you do, but your performance in American Hustle blew my mind.
"And Meryl [Streep], what can I say?
"Sandra [Bullock], I could watch that performance to the end of time, and I sort of felt I had.
"Julia [Roberts] hashtag suck it! You know what I mean?
"And [dame] Judi Dench. What a career. And she's not here tonight, because at the age of 79... because she's in India doing a sequel to her film."
Cate—who also won the Oscar for Best Supporting Actress in 2005 for her role in The Aviator—also showed her support for Blue Jasmine director Woody Allen, who has endured a turbulent time recently after historical sexual abuse claims against him were raised.
She added: "I am here excepting an award in an extraordinary screenplay by Woody Allen, thank you so much Woody for casting me, I truly appreciate it.
"I'm so very proud that Blue Jasmine stayed in the cinemas for as long as it did... And to the audiences who went to see it.
"And perhaps those in the industry who are still foolishly clinging to the idea that female films with women at the center are niche experiences.
ADVERTISEMENT - CONTINUE READING BELOW
"They are not, audiences want to see hem and in fact they earn money. The World is round, people!
"Thank you to my mum, my sister, to my brother, to my three glorious sons, I would not be standing her without you.
"To my husband, Andrew, you are a legend."