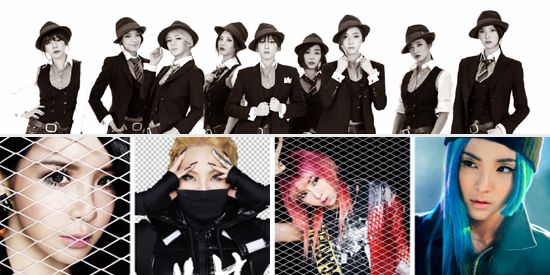 ---
Netizens are on a rave as two of South Korea's biggest girl groups—Girls' Generation and 2NE1—finally made their comeback.
GIRLS' GENERATION. Last February 28, nine-member girl group Girls' Generation finally released the music video for their latest single "Mr.Mr."
This is the group's comeback single after their huge hit "I Got A Boy" back in January 2013.
South Korean news site, Osen, revealed that the music video release of Girls' Generation was pushed back to February 27 from February 24 due to loss of data, which resulted to the deletion of a portion in their music video.
Girls' Generation's 4th mini-album was launched last February 24—after 14 months of being away from the K-pop scene.
For the album, the SM Entertainment's top girl group decided to mix it up with different genres in their tracklist including ballad, dance, and synth pop.
Their latest album received an "all-kill" in South Korean music charts on the day of its release.
This means the group ranked 1st on music charts including Melon, Genie, Mnet, Daum, among others.
Their mini-album also ranked 1st on iTunes album chart in several Asian countries; including Japan, Vietnam, Thailand, Taiwan, Singapore, Indonesia, the Philippines, Malaysia, and Hong Kong.
The album also topped iTunes album charts in the USA and Canada.
Girls' Generation collaborated with the world-famous producing team, The Underdogs, who have worked with Beyonce, Chris Brown, Justin Timberlake, among others.
2NE1. Meanwhile, the album CRUSH marks 2NE1's return to the K-Pop music scene.
YG Entertainments four-member girl group hasn't released any physical album since their 2011 self-titled album 2NE1.
Upon release, Crush topped iTunes Top Albums Chart in Indonesia, Singapore, the Philippines, Thailand, among other Asian countries.
Their latest album also secured the #10 spot in the United States on the iTunes Album Chart as well as #3 for the Pop Albums chart, while it reached #6 on the Albums Chart in Canada.
ADVERTISEMENT - CONTINUE READING BELOW
2NE1's highly-anticipated music videos for it's two singles "Come Back Home" and "Happy" were released earlier.
Their music video release has been delayed a few times by YG Entertainment's CEO, Yang Hyun Suk because of the heavy graphics needed.
2NE1 will not be promoting their album on South Korean music programs as they are currently focusing on their second world tour, AON: All Or Nothing, which kicked-off last March 1 and 2 at the SK Olympic Handball Stadium in South Korea.
Sandara Park and her groupmates are slated to visit the country and perform for their Filipino fans on May 17, at the SM Mall of Asia Arena.