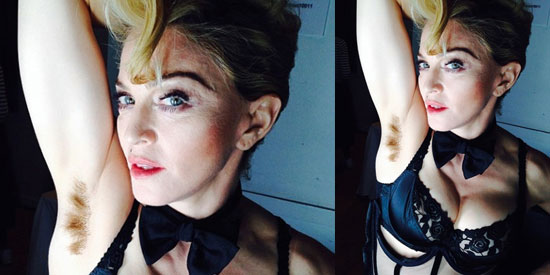 ---
Madonna has flaunted her hairy armpits.
The "Express Yourself" singer posted a picture of her displaying her right underarm on Instagram and implied her natural look is an artistic statement.
She captioned the picture of her wearing a sexy black bra and brazenly showing off her armpit: "Long hair...... Don't Care!!!!!! #artforfreedom #rebelheart #revolutionoflove."
Earlier in the day, the singer had posted another risque photo in which she wore fishnet tights and fetish-style underwear, showing off her bottom.
She captioned the picture "Looking for Love in all the wrong places!" but subsequently removed it.
Madonna also shared a third photo where she posed with a cigarette, but reassured fans she hasn't taken up any bad habits.
She wrote next to it: "Smokin..............#ididntinhale. #icantwait."
The 55-year-old star's sexy pictures are sure to impress her boyfriend, backup dancer Timor Steffens, 26, whom she met after they worked on a dance project together.
The Dutchman is already even said to be close to her youngest children, Rocco, 13, Mercy James, seven, and David Banda, eight.
A source said: "Madonna was hinting to people that one of the reasons she likes Timor so much is because he's a natural with her children.
"She isn't really the type to come out and say something like that, but it was obvious.
"She had a little smile on her face whenever she watched Timor goofing around with Rocco and the other kids."