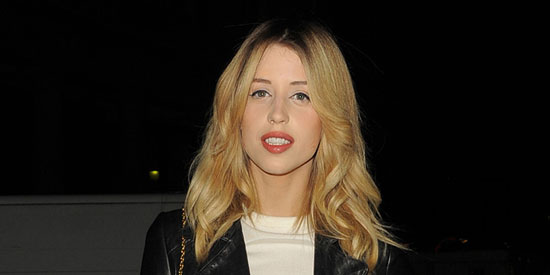 ---
Heroin is "likely" to have contributed to the death of Peaches Geldof, a senior police officer has revealed.
The 25-year-old star was found dead at her home in Wrotham, Kent, England, on April 7, and toxicology reports have now confirmed she had the drug in her system.
At a brief inquest in Gravesend, Kent, today, May 1, Detective Chief Inspector Paul Fotheringham, told the hearing: "Results concluded there was recent use of heroin and the levels identified were likely to have played a role in her death."
Police are now conducting an ongoing investigation into how the blonde beauty got hold of the substance.
The hearing was told Peaches's husband Thomas Cohen found her "slumped" over the bed, with one leg on the floor, of the spare room at their home address.
The musician had been spending the weekend prior to Peaches's death at his parents' home in south east London with their eldest son Astala, two, but he returned to Kent with his mother after he failed to get in touch with his wife.
Paramedics pronounced Peaches dead at the scene, and police began the investigation but were treating the death as "unexplained with no third party involved."
The inquest also heard that Peaches's father Sir Bob Geldof formally identified her body.
An autopsy carried out by a Home Office Pathologist shortly after her death proved inconclusive.
The hearing was adjourned until July 23.
Meanwhile, Peaches was laid to rest last week at St. Mary Magdalene and St. Lawrence Church in Davington, Kent, where her late mother Paula Yates's funeral took place in 2000.
Paula died from an accidental heroin overdose 14 years ago at the age of 41.