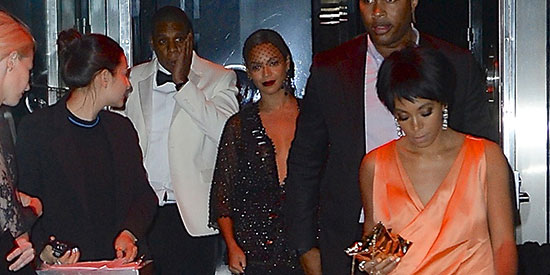 ---
Beyoncé's sister viciously attacked Jay Z at the Met Gala after-party in New York City last Monday, May 5.
Solange Knowles was caught on surveillance lashing out at the rapper, 44, in an elevator as they left the glamorous bash held in the Boom Boom Room at The Standard Hotel.
Beyonce appeared to be watching on helplessly as her sibling, 27, kicked and clawed her husband in what seemed to be an unprovoked attack.
In the footage, obtained by TMZ.com, Jay didn't appear to retaliate as the singer screamed in his face and, at one point, he even tried to hold her arms down as another man, who was presumably their bodyguard, held her back.
The bodyguard can even be seen pushing the emergency stop button repeatedly as the elevator reached the 12th floor in a bid to keep the violent altercation private.
Beyoncé—who has two-year-old daughter Blue Ivy with Jay—finally intervened and said something to Solange after she broke free and began punching him again.
Solange then stormed out of the elevator with a disgruntled expression plastered across her face as Beyoncé, 32, and Jay followed shortly behind.
The siblings were then seen getting into a car together, while Jay hitmaker left on his own.
Solange reportedly attacked Jay Z after she "overreacted" to something he said.
A source told Us Magazine: "Solange flipped out over something Jay had said, that she took the wrong way. She took it too hard or too far. Not sure what it was, but she greatly overreacted."