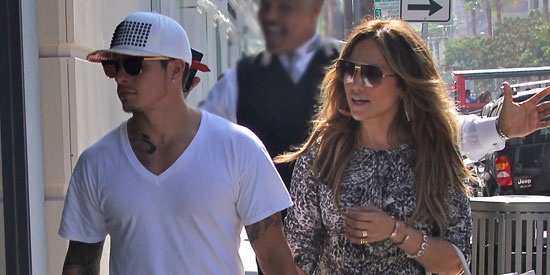 ---
Jennifer Lopez reportedly ended her relationship with Casper Smart because she didn't trust him.
The "I Luh Ya Papi" singer allegedly called time on her two-and-a-half year romance with the dancer-and-choreographer because she didn't feel there was enough stability and strength within their relationship.
A source told E! News: "Jennifer did not trust him. The relationship had not been right for a while. Smart was never going to be the love of her life but he was fun and a nice guy to be around."
However, despite their breakup, friends believe Jennifer, 44, only began dating Casper, 27, to help her get over her split from her ex-husband Marc Anthony, with whom she has six-year-old twins Max and Emme, in 2011.
A source explained: "Smart was a good distraction post Marc. He was good to her. He was meant to be easy and fun and when that was gone, she didn't want to be in the relationship anymore. There is no one else. They will remain friends."
Meanwhile, in recent weeks, Casper, who began dating Jennifer in 2011, has been accused of cheating on the star with transsexual bikini model Sofie Vissa, whom he met and exchanged sexual messages with online first.
However, Casper has denied the allegations and subsequent claims involving a second transgender model.
J.Lo has been coping fine since ending the romance with Casper and is completely focused on promoting her upcoming album 'A.K.A.' and her live shows, which kicked-off with a free concert at Orchard Beach in The Bronx, New York, this week as part of a national music series.
ADVERTISEMENT - CONTINUE READING BELOW
The former couple were first linked together in November 2011 just a few months after the singer-and-actress split from her ex-husband Marc Anthony, with whom she raises six-year-old twins Max and Emme.