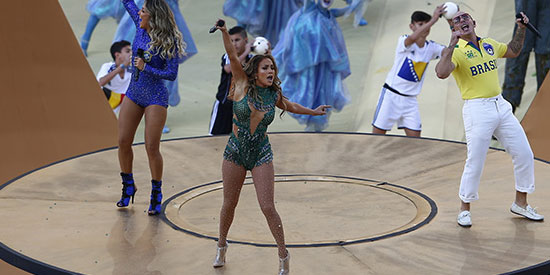 ---
Jennifer Lopez performed at the FIFA World Cup 2014 opening ceremony in Brazil last night, June 12.
The 44-year-old singer kicked off the international football tournament by taking to the stage with Pitbull and Claudia Leitte to sing the official FIFA song "We Are One (Ole Ola)."
The "On The Floor" hitmaker flaunted her enviable curves in an eye-catching emerald green leotard, which was embellished with rhinestones and tassels, as she jumped around on stage in killer heels, waving her arms, and encouraging the cheering crowd to join in the energetic set.
As the trio finished the track and walked around the stadium, Jennifer was overcome with emotional as she mouthed "Thank You" to her adoring fans.
The stunning star had clearly enjoyed herself at the event, but earlier in the week it was unclear whether she would even perform at the ceremony in Sao Paulo after FIFA announced on Monday, June 9, that she had pulled out due to unspecified "production issues."
However, Jennifer, who recently split from her long-term boyfriend Casper Smart, soon had a change of heart because she didn't want to disappoint her fans.
A spokesman said on Tuesday, June 10: "Jennifer has always wanted to participate in the World Cup opening ceremonies. We have been trying to work out scheduling and logistics... Jennifer would not want to disappoint her fans or fans of football. She will be there."