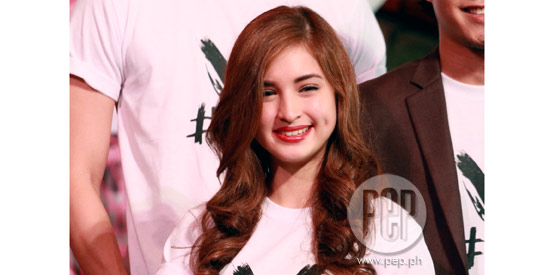 ---
Coleen Garcia, the current flame of Billy Crawford, says that she had a chance encounter with Nikki Gil, the ex-girlfriend of Billy.
In an exclusive interview with PEP.ph (Philippine Entertainment Portal), Coleen reveals that she went to an event where Nikki was also present.
"Actually, nagkita kami sa Ad Summit Pilipinas sa Subic," says Coleen about the advertising event held last May.
"Nagkita kami dun, actually all of us. Siyempre, we were polite naman.
"We were all so polite to each other. There was no bad vibes naman.
"Past is past."
Did they get the chance to talk to each other during the event?
"No. But before rin naman, hindi naman kami masyadong nag-uusap. We were never close.
"Before, hindi naman kami nag-uusap so...
"Of all the times for me to talk to her, parang it's weird," says the It's Showtime co-host.
She continues, "Billy didn't talk to any of my exes.
"You don't really ask for permission from the other person.
"It's finished na, e."
SEEING EACH OTHER. Coleen attended the 10th Cinemalaya press conference held earlier today, July 9, at the Cultural Center of the Philippines.
She is part of the film #Y, wherein she portrays a young girl who likes to swear and often talks about her sexcapades.
Did she ask Billy's permission to do this daring project?
"Ikinuwento ko sa kanya lahat at pati siya ikinukuwento niya lahat.
"We're always together. Halos 24/7 na kami magkasama—whether you like it or not, nagkikita kayo sa work.
"We see a lot of each other and we have a lot of time to talk about different things."
Does she consider it an advantage or disadvantage that they are spending almost all of their time together?
Coleen says, "It's an advantage definitely to know him deeper and I get to know him more at a shorter amount of time.
ADVERTISEMENT - CONTINUE READING BELOW
"Magkakasama kami lagi, e. I don't have to wait next week for us to see each other."
BILLY IS WORTH FIGHTING FOR. During this interview, it was apparent that Coleen was more open talking about her relationship with Billy.
"Yes, it's because there's more certainty," admits Coleen.
"It's not naman because we were tago, but there's more certainty now.
"Yung time na sumabog ang issue, we weren't really solid.
"We weren't really girlfriend-boyfriend.
"In my mind, [iniisip ko], will I fight for this or not?
"Because I barely know him... alanganin in a way.
"But as we got to know each other, nagpo-form na ng solidity."
Would she say that Billy is worth fighting for?
"Yes," she affirms. "Because he would fight for me, too.
"And it's hard to find someone who would fight for you the same way that you would fight for him."
NO LABEL YET. What made her decide to say "yes" to Billy?
"Sinabi ko ba na sinagot ko na?" says Coleen with a laugh.
She turned serious as she disclosed, "Parang ganun na rin, pero wala pang label, wala pang date.
"I think I can say girlfriend-boyfriend kapag may date na, saka boyfriend-girlfriend na ang tawagan namin.
"Pero now, it's pretty much the same thing already."
She admits that they are still having a transition phase in their relationship.
"Alam mo yung parang awkward stage na papunta dun? Hindi mo pa sinasabi..."
Would she say that they are in the M.U. (mutual understanding) stage?
"Getting there. Kulang na lang talaga ang label at ang date," says the Fil-Spanish TV host-actress.
Is she still hesitant to enter into a commitment with Billy?
"Not really. I'm really getting to know him.
"Kasi I'm really taking my time.
ADVERTISEMENT - CONTINUE READING BELOW
"Because I know we will be seeing each other tomorrow and the next day and the next day.
"There's no need to rush."
What are the qualities she likes most about Billy?
She says with a smile, "He always makes me laugh in a way that not a lot of people can.
"He really understands me. He is very, very patient with me.
"Everything about me, he is so patient—mga problema ko, lahat ng obstacles sa buhay ko.
"He really tries to face [problems] with me so I really appreciate that."
When asked for the likelihood that she will say yes to Billy, Coleen points out, "Ganito na lang, I don't know the percentage, but I wouldn't be here kung hindi papunta dun.
"I wouldn't be answering the way I am answering right now and I wouldn't be spending time with him every day if I didn't see us going to that direction."
Does she think Billy is "the one" for her?
"Too early pa!" she says with a laugh. "Too early pa to tell.
"You would base that not just on how you feel, but also you base it on how you guys get through a fight at kung may pinagdaanan na kayo.
"Kami ni Billy, although may pinagdaanan na, hindi pa ganun kalalim."