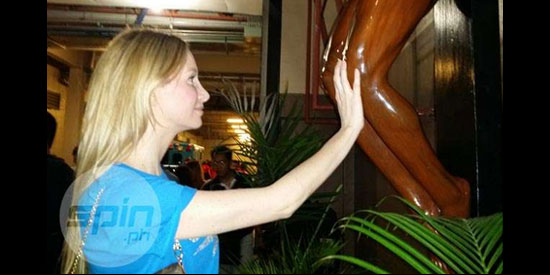 ---
In the grandest stage of all, San Mig superstar James Yap cemented his legacy as one of the best clutch performers in PBA history.
And no one was prouder than his girlfriend Michela Cazzola.
Asked what she thought about Yap's splendid Game Five performance, Italian stunner Cazzola said it was simply proof that "James really wanted it and prove that he is the best player.
"James wanted to prove what he can do. He wants to please all of us his fans. To me he is really the best player," added the 32-year-old Asian Development Bank employee.
"Haters are gonna hate, now they're gonna eat their tongue (with this another performance by James)," she added.
"I am a hundred and fifty percent proud of him."
Cazzola said she saw for herself the determination in Yap not to let the chance at immortality slip past him as Rain or Shine threatened to spoil San Mig's grand slam quest.
ADVERTISEMENT - CONTINUE READING BELOW
"He was really praying hard for it (championship). And the thing I saw was how hard he worked for it," she said.
The Florence, Italy native believes that with Yap's self-discipline and work ethic, the two-time league MVP still has around six to seven more years of quality basketball left in him.
By then, Cazzola is hoping her boyfriend would have conquered more championships with San Mig and perhaps one or two more MVP titles.
James Yap was hailed as the Finals MVP as the 2014 PBA Governor's Cup concluded last night.


Read full story at SPIN.ph: Michella Cazzola says boyfriend James Yap worked hard for all the blessings going his way