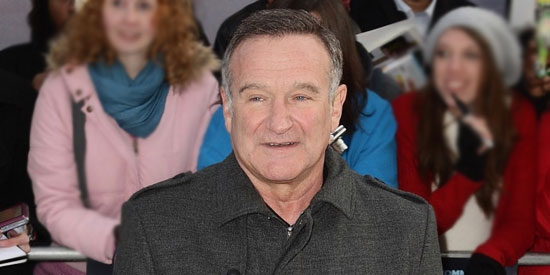 ---
President Barack Obama and Hollywood stars paid tribute to Robin Williams.
The U.S. leader recalled the many and diverse roles played by the veteran actor—who was found dead in an apparent suicide in his home in California Monday morning (August 11)—in a touching statement on behalf of himself, wife Michelle and their daughters Malia, 16, and Sasha, 13.
Obama said: "Robin Williams was an airman, a doctor, a genie, a nanny, a president, a professor, a bangarang Peter Pan, and everything in between. But he was one of a kind.
"He arrived in our lives as an alien—but he ended up touching every element of the human spirit.
"He made us laugh. He made us cry. He gave us immeasurable talent freely and generously to those who needed it most—from our troops stationed abroad to the marginalized on our own streets."
The President went on to offer condolences to the star's family—wife Susan Schneider and children Zak, 31, Zelda, 25, and Cody, 23—friends and those he had helped.
ADVERTISEMENT - CONTINUE READING BELOW
He added: "The Obama family offers our condolences to Robin's family, his friends, and everyone who found their voice and their verse thanks to Robin Williams."
Filipino singer-theater actress Lea Salonga, who co-starred with Robin in Aladdin, posted a scene from the 1992 animated film and this short caption: "Sigh... good-bye, Genie... now you truly are free."
Lea was the singing voice of Princess Jasmine, while Robin lent his voice for the Genie character.
Meanwhile, Kevin Spacey, Cher, Sharon Osbourne, and Miley Cyrus are among the stars to pay tribute to Robin.
His Shrink co-star Kevin wrote: "Robin Williams made the world laugh & think. I will remember & honor that. A great man, artist and friend. I will miss him beyond measure."
Singer Cher reacted the news with a simple sad-faced emoticon, before recalling their long friendship and most recent meeting.
She wrote: "He was Sweet LOVELY,Man.
"He ran high voltage,Mind Always Going,
ADVERTISEMENT - CONTINUE READING BELOW
"It was who he was.I Know Well..Many X's from High There is Only Low.So Sad
"I was with him a little while ago we pretended to see Sharknados !
"Have known him Long X. Saw him open 4 Martin Mull once,Pre Mork & Mindy"
Sharon sent her condolences to the star's family on behalf of her own loved ones.
She wrote: "I'm so sad and devastated to hear of the passing of Robin Williams. My thoughts are with his family.
"The entire Osbourne Family is grieving the loss of a kind, funny, generous and talented man, Robin Williams."
"Wrecking Ball" singer Miley was left in tears by the news.
She wrote: "I can't take the Robin Williams news. I've never cried over someone I've never met but I can't stop."
Former child star Lindsay Lohan also paid tribute to the "kind" actor.
ADVERTISEMENT - CONTINUE READING BELOW
She wrote: "Mr. Williams visited me the first day of filming The Parent Trap. I will never forget his kindness. What an enormous loss. My condolences."
Steve Carrell simply wrote: "Robin Williams made the world a little bit better. RIP."
Robin's Good Will Hunting co-star Minnie Driver said she was heartbroken by the tragic news.
She said: "My Heart's broken. Robin was a beautiful, kind soul. Can't bear that he's gone. So incredibly sorry for his family."
His Waiting For Godot co-star Steve Martin was "stunned."
He tweeted: "I could not be more stunned by the loss of Robin Williams, mensch, great talent, acting partner, genuine soul."
Evan Rachel Wood simply posted a picture of the Genie from Aladdin—a character voiced by Robin—and wrote: "Genie. You're Free."
Ellen DeGeneres was another actress to put up a picture in honor of the Insomnia actor, writing alongside the image of him being interviewed on her show: "I can't believe the news about Robin Williams. He gave so much to so many people. I'm heartbroken."
ADVERTISEMENT - CONTINUE READING BELOW
Zac Efron remembered his "hero."
He wrote: "@robinwilliams will always be my hero. We lost a beautiful soul today. RIP"
The stars of Girls had a minute's silence on set to honor the star.
Lena Dunham tweeted: "Just shared a moment of silence on the set for Robin Williams, a man who brought so much laughter, joy and healing to so many."
Robin was last seen alive on Sunday night, August 10, before his body was discovered shortly before a call to the emergency services was made at 11.55 A.M. on Monday.
An investigation into the exact cause of death is currently underway and a forensic examination is scheduled to take place today, August 12, with subsequent toxicology testing to be conducted.
A spokesman for the Marin County Sheriff's Department in California explained: "An investigation into the cause, manner, and circumstances of the death is currently underway by the Investigations and Coroner Divisions of the Sheriff's Office.
ADVERTISEMENT - CONTINUE READING BELOW
"At this time, the Sheriff's Office Coroner Division suspects the death to be a suicide due to asphyxia, but a comprehensive investigation must be completed before a final determination is made."