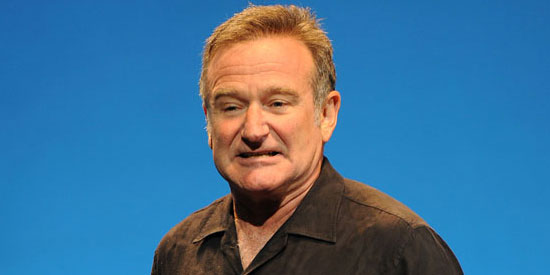 ---
Robin Williams hanged himself with a belt at his home in Tiburon, California on Monday, August 11.
He also had "acute, superficial cuts" located "on the inside of his left wrist" from a pocket knife, according to the Marin County Sherif's Department.
During a press conference Tuesday, August 12, Lt. Keith Boyd confirmed the Oscar winner died from asphyxia due to hanging, and chemical substances were found in his system during an autopsy after his body was discovered by his personal assistant.
Toxicology results will not be made available for approximately two-six weeks so further tests can be carried out.
Boyd said: "His body was in a position that looks like he's sitting in a chair, slightly off the ground, suspended between the belt that was wedged between the door and the door frame."
He added: "We want to be thorough. We want to be sure that we cover all of our bases... to make sure we're not forgetting anything else that we're not being presumptive and overlooking [pertinent details]."
Police are continuing to investigate The Birdcage star's death, and no time of death has been specified, but they confirmed his wife, Susan Schneider, was the last person to see him alive.
Robin reportedly sought treatment in rehab last month and his spokesperson confirmed yesterday that he had been battling "severe depression" recently.
Insiders also believe the Hollywood legend did not leave a suicide note.
Robin leaves behind his children Zak, 31, Zelda, 25, and Cody, 23, as well as his wife of three years Susan Schneider, who has been left "utterly heartbroken" by her husband's death.
She told the New York Times newspaper: "This morning, I lost my husband and my best friend, while the world lost one if its most beloved artists and beautiful human beings. I am utterly heartbroken.
ADVERTISEMENT - CONTINUE READING BELOW
"On behalf of Robin's family, we are asking for privacy during our time of profound grief. As he is remembered, it is our hope that the focus will not be on Robin's death but on the countless moments of joy and laughter he gave to millions."
Robin's daughter Zelda has also posted a touching tribute to her father on Instagram.
She posted a quote from The Little Prince writer Antoine de Saint-Exupéry, which read: "You—you alone have the stars as no one else has them ... In one of the stars I shall be living. In one of them I shall be laughing. And so it will be as if all the stars are laughing, when you look at the sky at night. You—only you—will have stars that can laugh."
She added underneath the quotation: "I love you. I miss you. I'll try to keep looking up."