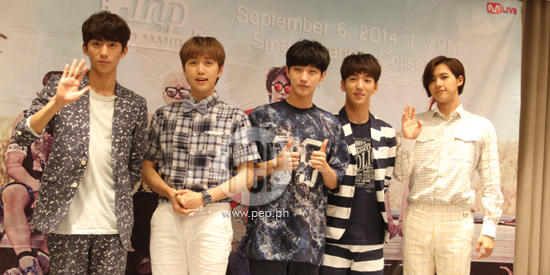 ---
Three years after their debut, five-member K-Pop idol group B1A4 finally make their way to the Philippines and perform live for their Filipino fans.
The group kicked off their first world tour titled 2014 B1A4 ROADTRIP—READY? in Taiwan last August, and is now in the country for the Manila leg of their concert tour.
The members of B1A4—CNU (vocals, rap), Jinyoung (leader, vocals), Sandeul (main vocals), Baro (main rap), and Gongchan (vocals)—were more than happy to meet the members of the local press during their concert's press conference held at Marco Polo Hotel, in Pasig City, Friday afternoon, September 5.
The all-male K-Pop group was warmly welcomed by their fans when they arrived just hours before their press conference.
The members were thankful for their fans' overwhelming support.
Baro said, through a translator, "A lot of fans were there to greet us when we arrived at the airport, so we very much are looking forward to the concert tomorrow night."
Jinyoung was also surprised on how warmly they were received by their Filipino fans.
He said, as translated in English, "When we arrived at the airport, we heard our fans chanting 'B1A4!'
"So we found out how passionate they are and we are are more excited to perform."
FIRST TIME. This is the group's first visit in the country and CNU expressed his gratitude to their Filipino fans who continue to support them.
CNU told the press, through a translator, "We're really grateful because even though Philippines is far from Korea, a lot of fans are giving their support.
"And even today at the airport, a lot of fans were there to support us and we're feeling very, very grateful towards our Filipino fans."
Since it's their first time, is there any food they want to try?
ADVERTISEMENT - CONTINUE READING BELOW
Sandeul answered, "Lechon baboy!"
Meanwhile, PEP.ph (Philippine Entertainment Portal) and other reporters also asked the members what other places in the country they would like to visit.
The 22-year-old Sandeul said he wanted to visit Pagsanjan Falls.
He explained, "There's a waterfall in the Philippines that is the seventh biggest in the world, and so when I was looking up things about the Philippines, I saw that and then I wanted to go there."
Gongchan, on the other hand, said he wants to visit Boracay.
ROAD TRIP IN MANILA. The press also asked why they chose the Philippines as one of their concert tour destinations.
Jinyoung answered, as translated in English, "When we do fan meetings and fan signings in Korea, we have a lot of international fans.
"We got a lot of Filipino fans requesting for us to perform in the Philippines.
"So when we had our meetings, we decided to go to the Philippines for a concert."
Having known for their hit songs "Beautiful Target," "Sleep Well, Good Night" and "Lonely," what is their favorite song from all the albums they released?
Baro answered first and said, "My favorite song is actually in our newest album Solo Day called 'A Cup of Water.'
"It's because when you listen to the song, it feels very happy…"
Jinyoung, on the other hand, said that the song "When In Love" from their sophomore album Who Am I is his favorite.
He explained, "Normally, when I write songs about love and breaking up, it goes more of that love and breaking up.
"This time, the content of the song is a little different so it was a very different experience for me when wirting the song."
As for why their concert is titled Road Trip, Sandeul explained, "Just like the name of the tour suggests Road Trip, I feel like I'm just going on a road trip with the members and be able to meet fans from different countries."
ADVERTISEMENT - CONTINUE READING BELOW
How would they describe their ideal road trip?
Baro answered, "Recently we filmed a show called One Fine Day where all the members went down to the southern part of Korea for a road trip and it was memorable for me.
"I also want to go to Spain with the other members."
Organized by TGM Events in partnership with All Access Productions, B1A4's 2014 B1A4 ROADTRIP—READY? is set to happen in Manila this September 6, Saturday, 7 P.M., at the Smart Araneta Coliseum.
After their Asian tour, B1A4 will bring their "road trip" to USA and Australia.
For more information regarding ticket purchasing, reservations and inquiries, you may contact Ticketnet at Tel. No. 911-5555 or visit their website at www.Ticketnet.com.ph.