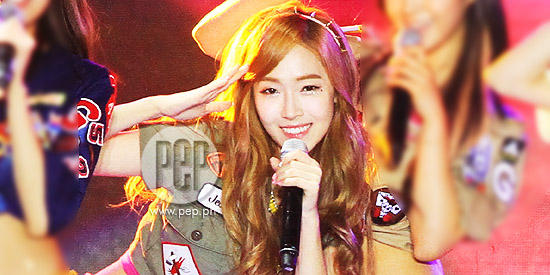 ---
Jessica Jung of Girls' Generation posted a controversial status update on her official Weibo account yesterday morning, September 29, that she's "no longer a member" of the popular South Korean girl group.
Her status post said: "I was excited about our upcoming fan events only to shockingly be informed by my company and 8 others that as of today, I'm no longer a member.
"I'm devastated - my priority and love is to serve as a member of GG, but for no justifiable reason, I am being forced out."
Their fans, SONEs, were anxious to know about the details of this issue.
Girls' Generation was scheduled for a fan meeting in China on September 30, and Jessica was reportedly absent at the Incheon airport before their departure.
South Korean news portal Dispatch spotted Jessica and rumored boyfriend Tyler Kwon at Incheon airport, and said that the couple just got back from New York City as the former attended some personal affairs.
A South Korean showbiz insider told Allkpop.com that Jessica was dropped from the group "due to conflicting issues with management related to marriage."
Dispatch also enumerated five speculations why Jessica was pulled out from the group.
One of which is thatthe conflict started after Jessica launched her own fashion line 'BLANC' and that she can't manage her priorities for the group and her business.
The news portal also speculated that the other members of Girls' Generation think that Jessica's rumored boyfriend and her fashion line is currently her number one priority and not their group.
In a statement released by SM Entertainment (Jessica's management agency), posted on the blog site Koreaboo, the company confirmed that they are going to pull out Jessica from Girls' Generation and that the group will continue promoting with just eight members.
ADVERTISEMENT - CONTINUE READING BELOW
Their full statement reads: "Hello. This is SM Entertainment.
"We are offering our position on the message posted on Jessica's Weibo posted today.
"This coming spring, due to her personal situation, she notified us that she will halt her team promotions with the release of one [more] album.
"Despite Jessica's sudden notice, the agency and the Girls' Generation members tried our best and tried to figure out a way that Girls' Generation's activities can continue in the best possible direction.
"However, in the midst of insufficient clear negotiations regarding conflicts of differences in priorities and interest, Jessica started her fashion business.
"Due to this, despite ongoing talks, it has come to a point where the team could not be maintained any longer.
"Thus, the agency had no choice but to pull up Girls' Generation's activities as 8 members earlier than planned, and in the midst of while working out when to announce this, Jessica had posted her words early this morning.
"From here on, our agency will continue to support and manage the 8-member Girls' Generation and Jessica's individual activities."
The other members of Girls' Generation—Taeyeon, Sunny, Yoona, Tiffany, Hyoyeon, Sooyoung, Seohyun, and Yuri—have yet to give their statement on the issue.