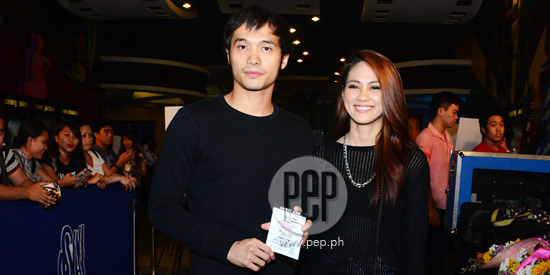 ---
Singer Kean Cipriano is often seen hanging out with rumored girlfriend Eunice Jorge.
They were recently spotted together at the premiere night of Tumbang Preso in SM Megamall Cinema 7 last September 30, and at the celebrity screening of The Janitor last October 7 in SM the Block.
During a short interview with the media, Kean was asked about the real deal between him and Eunice.
He said, "We hang out a lot, more often now than ever, because we are doing a project together. Yeah, we've been hanging out."
Being both musicians—Kean is the lead singer of Callalily while Eunice is the lead singer of Gracenote—the two are currently working on an album titled A Trip Down The Memory Lane.
Kean and Eunice are also gearing up for a concert dubbed as the Happy Together Concert, which will take place tomorrow, Thursday, October 16, at the Music Museum.
After spending a lot of time together, would Kean be able to say that he already "likes" Eunice?
The singer-actor quickly answered, "Yeah, of course I do."
How about falling in love with the Gracenote lead singer?
Kean carefully answered, "That's way too cheesy, you know, that's mozzarella.
"But we're having the time of our lives, playing music together, doing good music together, nothing too cheesy.
"But that girl, that beautiful lady, is just really adorable."
THE ONE THAT GOT AWAY. After admitting that Alex Gonzaga was "the one that got away" in Aquino and Abunda Tonight a few weeks ago, Kean then reluctantly responded to the questions pertaining to the TV host-actress.
He confessed, "I was on the spot. Things… I don't wanna talk about it."
The 27-year-old avoided the issue stating, "I don't want to get into those kind of topics."