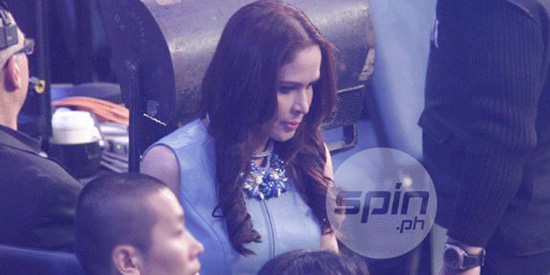 ---
MACAU - While Filipinas swooned over Chris Algieri and his boy-next-door looks, Manny Pacquiao's charming wife Jinkee claimed her husband is still the better looking between the two.
"Mas pogi pa rin ang asawa ko," Jinkee told Spin.ph with a laugh. "Loyal ako sa asawa ko. Hindi ko ipagpapalit 'yun."
Mrs Pacquiao said she heaved a sigh of relief after seeing Pacquiao emerge from the fight with nary a scratch while Algieri showed up for the post-fight press conference hiding her bruised eyes behind a pair of dark glasses.
"Sa tingin ko hindi siya masyadong nasaktan. Hindi ako kinakabahan after the fight kasi walang gasgas sa mukha, kaunting lang," she said.
Jinkee also expressed elation seeing the renewed fire in the eyes of her husband in the buildup for the Macau showdown as well as during the fight itself.
"Para sa akin, maganda yung ipinakita niya. Very impressive. Parang worth it 'yung ensayo niya, 'yung pagod niya. He deserves to win talaga," Jinkee added.
Meanwhile, Mrs. Pacquiao also said she felt compassion upon seeing Algieri's face turned into a mess by her husband.
"Nakakaawa nga rin siya. Pero OK naman siya kalaban. Malakas rin," she said.
Read full story on SPIN.ph: Jinkee Pacquiao on Algieri's boy-next-door looks: 'Mas pogi pa rin asawa ko'