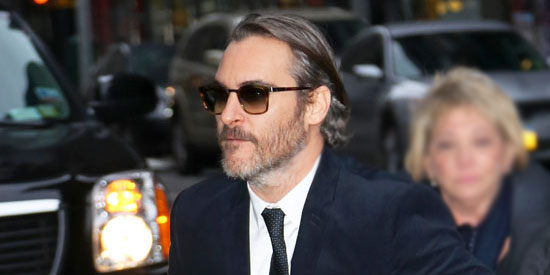 ---
Joaquin Phoenix is not engaged.
In an appearance on The Late Show With David Letterman this week the Her star claimed he had proposed to his yoga instructor girlfriend after she made him perform a complicated movement during a gym session and he realised she was "the one."
But Joaquin has now come out to say it was just a joke and he only uttered it to make the studio audience like him.
Being interviewed by George Stephanopoulos on Good Morning America, he confirmed: "I think like my life's so boring, and it seemed like something exciting to talk about, and I wanted the audience to like me. They really like people getting married... I can get engaged again, if you like?"
In another interview on Live! With Kelly and Michael, Joaquin insisted Letterman knew his proposal story was just a gag.
He said: "I did not play a prank on him—he knew that I was joking around."
A representative for the 40-year-old actor has also come out to clarify that he is not getting married, adding: "How about the fact that he happens to have an extraordinary spontaneous sense of humor?"