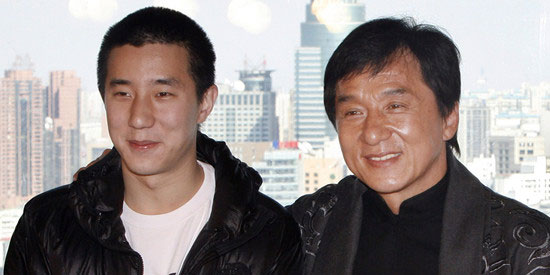 ---
Jackie Chan's son has been indicted on drugs charges.
Jaycee Chan, 32, was detained in August on suspicion of possessing cannabis and prosecutors in Beijing charged him on Monday, December 22, with sheltering others to use drugs, an offense which could see him jailed for up to three years.
The singer-and-actor was arrested at the same time as his friend Kai Ko, who was released after a 14-day administrative detention for drug use.
Ko testified on camera that he had used drugs at his pal's home.
Following his son's arrest four months ago, Jackie admitted he felt "angry, shocked and ashamed."
He blogged: "Regarding this issue with my son Jaycee, I feel very angry and very shocked. As a public figure, I'm very ashamed. As a father, I'm heartbroken
"Jaycee and I together express our deep apology to society and the public.
"I hope all young people will learn a lesson from Jaycee and stay far from the harm of drugs.
"I say to Jaycee that you have to accept the consequences when you do something wrong. As your father, I'm going to face the road together with you."
It is not yet known when Jaycee will face trial.