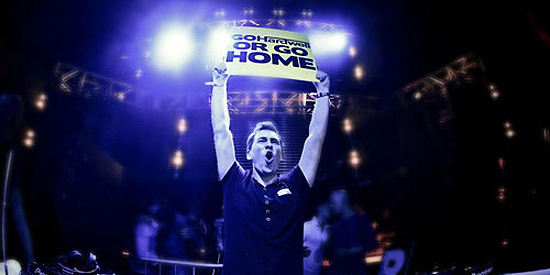 ---
Filipino EDM (Electronic Dance Music) fans had a heyday this year and enjoyed a heavy dose of loud, raucous partying courtesy of some of the world's most renowned knights of the turntable who headlined some of the most memorable dance parties this side of Southeast Asia.
Pinoy dance fans were fist-pumping and grooving in some of the biggest music festivals held this year in the country, such as the 7107 International Music Festival, Neverland, Sonic Carnival, and Close-up Forever Summer.
International DJs were more than happy to share their brand of music to local party animals and ravers.

First up was the ecstatic experience DJs Kaskade and Empire of the Sun gave to those who went to the 7107 International Music Festival in Clark Field, Pampanga, last February 22 and 23.
Kaskade is one of the first DJs who introduced the sound of progressive house music. He visited the Philippines for the second time and performed at the 7107.
Australian electronic music duo Empire of the Sun also hyped the 7107 crowd with their outstanding stage design, costumes and drops which made ravers jump and dance to their music.
Alesso brought summer to a sizzle when he headlined the annual Close-Up summer party dubbed as Forever Summer last April 5 at the Makati Circuit Events Ground.
The Swedish DJ did not disappoint when he played his hit songs "Calling (Lose My Mind)," "Years," "If I Lose Myself," and "City of Dreams."
Last May 4, at the LABORacay party in Boracay Island, Steve Aoki made an epic performance at the island which everyone enjoyed.
ADVERTISEMENT - CONTINUE READING BELOW
His two-hour set in Epic Bar, Boracay Island, was definitely one for the books.
Summer got even hotter when Dutch trance music producer and DJ Armin Van Buuren threw a six-hour party at the Mall of Asia Arena last May 30, for his Intense world tour.
He impressed his crowd with his eye candy visuals and heart-pumping beats and drops.
Electro house duo Disclosure also rocked the night of avid EDM listeners when they visited the country last July 24 at the World Trade Center.
World's number one DJ, Hardwell also gave Manila a blast with his three-hour set of EDM.
He kept the crowd up until dawn with his astounding beats and drops.
Last October 3, the biggest and most-anticipated music festival in the Philippines happened. Neverland Manila made dreams of EDM fans come true when they were able to bring Dutch music producer and DJ, Afrojack.
His set was accompanied with amazing visuals and fireworks which made his 'till-dawn set worth the wait.
Prior to Afrojack's set was also a wild party by former Swedish House Mafia members Axwell and Sebastian Ingrosso which started the party.
Lastly, one of the youngest DJs who visited Manila, Martin Garrix, pumped up the party crowd at the Valkyrie Nightclub last December 11. Makati's party animals were jumping to his hit songs like "Animals," and "Gold Skies."
It was indeed a wonderful year for the ravers and they are definitely hungry for more in 2015.
Check out the DJs and the parties in photos. CLICK HERE.
ADVERTISEMENT - CONTINUE READING BELOW