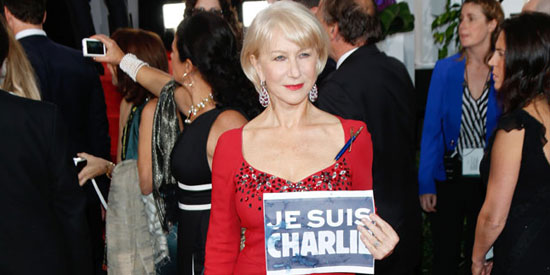 ---
Dame Helen Mirren, George Clooney, and Amal Alamuddin were among the Golden Globe stars who showed their support for Charlie Hebdo following the recent Paris terrorist attacks.
Helen held up a 'Je Suis Charlie' sign in support of the satirical magazine, which was horrifically attacked last week leaving a number of journalists dead, as she walked the red carpet at the event in Los Angeles, Sunday night, January 11.
Amal attached a 'Je Suis Charlie' pin badge to her clutch bag and revealed the accessory was a tribute to the people of France in the wake of the atrocity.
She told Elle magazine: "[It is] customized in solidarity with the French people who've gone through a terrible week."
George also paid tribute to the cause by wearing a 'Je Suis Charlie' badge—French for 'I Am Charlie'— on the red carpet and paid tribute to the 3.7 million people who took to the streets in France for a public show of solidarity against the Paris attacks.
Speaking in his acceptance speech while receiving the Cecil B. DeMille Award, bestowed for an outstanding contribution to entertainment, he said: "Today was an extraordinary day. Millions of people marched not just in Paris but all over the world.
"They were Christians and Jews and Muslims, they were leaders of countries all over the world. And they didn't march in protest, they marched in support of the idea we will not walk in fear.
"So, Je Suis Charlie. Thank you."
Several other stars also showed their support including Joshua Jackson, Diane Kruger, and Kathy Bates, who all held up a 'Je Suis Charlie' sign on the red carpet, while William H. Macy told Variety: "I am Charlie."
ADVERTISEMENT - CONTINUE READING BELOW
Inside the ceremony at the Beverly Hilton Hotel, Hollywood Foreign Press Association president Theo Kingma was given a standing ovation by the star-studded audience as he insisted Hollywood will "stand united against anyone who would repress free speech."
He said: "We understand the importance of free expression as not only an integral part of the American fabric, but a beacon that is reflected across the globe.
"Together we will stand united against anyone who would repress free speech anywhere from North Korea to Paris."
Earlier in the day, producer Harvey Weinstein called for the Globes audience to support the freedom of speech cause.
In a column for Variety, he wrote: "Tonight is the Golden Globes, and there's always champagne on the table.
"I hope we can all raise glasses and that someone like Tina, Amy or George Clooney will urge us to toast with 300 million viewers around the world, 'Je suis Charlie, je suis juif, je suis Ahmed.' "