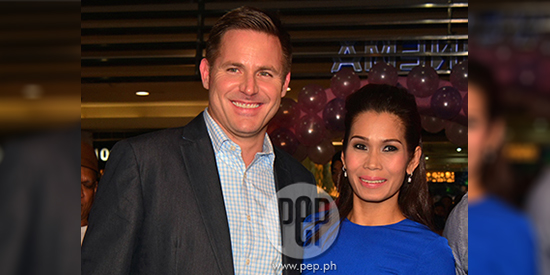 ---
During the premiere of Edsa Woolworth last January 13 at SM Megamall, Pokwang's leading man Lee O'Brian talked about his relationship status with the comedienne.
In an exclusive interview with PEP.ph (Philippine Entertainment Portal,) the Hollywood actor said, "Our chemistry off-screen is solid, yeah."
He explained, "When you go through that many scenes and many situations together, you become close, you bond.
"And off-screen, we're friends.
"We enjoyed keeping in touch pretty much during the last few months as much as we could.
"Obviously, the distance, really, it's not that easy.
"And being that she is so busy, I got a pretty busy schedule myself back in the States....
"She has an enormously busy schedule.
"Well, yeah, it's good relationship off-screen, too."
Lee also made it clear that the two of them are "just good friends."
And if something deeper develops out of it, "I mean, both of us, I don't know if we've directly spoken about it.
"But the future holds what the future holds, right?
"I can't really predict anything or say anything.
"But you know, I would hope that we could at least remain really good friends for a long time."
He expounded, "Pokwang is great. Everyone I have met, Filipinos and fans, says the same things.
"Big heart, obviously funny, obviously talented.
"And immediately, from our first shooting day to our last, she was professional.
"She would show up ready for the scenes and is also motivated.
"And beyond that, she's just a sweetheart, she's just a good human being.
ADVERTISEMENT - CONTINUE READING BELOW
"She cooks for us on set, she comes and cracks jokes whenever we have some downtime.
"And then at the same time, when we're out on the public and people coming in constantly and visiting her and trying to get pictures, you know, she has an incredible ability to jump between modes like that.
"That's something beyond her talent."
Pokwang, on the other hand, said, "Naging pamilya na kami [the cast] sobra dito sa movie na 'to.
"Nakakalungkot, kasi ang hirap iwanan, kasi ganun yung bonding namin."