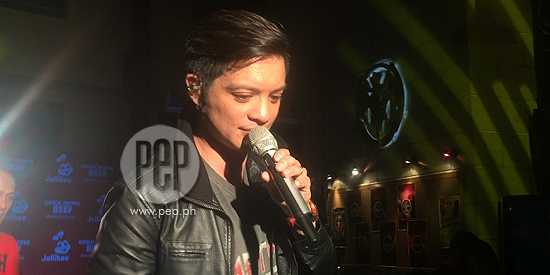 ---
"This is what's best for him. I just wish him good luck. I just wish him well. It's sad to see him go."
This was Bamboo's reply when asked about the controversial dismissal of Joniver Robles from his team, Camp Kawayan.
On the January 18 episode of The Voice of the Philippines, Coach Bamboo announced that Joniver is leaving the team "due to personal reasons."
Joniver, on the other hand, posted a status message on Facebook about his dismissal from the show:
"NEED HELP. To all my supporters....specially friends and love ones...to my Mom. I didn't know what to do and not hearing anything from my coach and teammates or anyone from the show made me wait until tonight. IT WAS TAKEN AWAY FROM ME."
He also claimed that people "make up lies to be used against me" and this resulted to his removal from the competition.
There are talks that Joniver was disqualified because he preempted the results of the show by posting a status message on his social media account.
Last night, January 21, at the launch of Jollibee's Garlic Peper Beef, at Craft Pub Grill, in The Fort Strip, Taguig City, Bamboo briefly talked about Joniver's controversial elimination.
However, he did not disclose the reason behind it.
He said, "I just hope him well."
Bamboo also admitted that he hasn't talked to Joniver about the incident, "No, we have not."
The Voice coach also said that he found out about Joniver's case weeks ago prior to his announcement.
ADVERTISEMENT - CONTINUE READING BELOW
"It was in discussion and it was agreed upon that for personal reasons, he had to walk away from the show.
"It was a surprise. It happens...
"People have to remember that there's life after the show.
"So, that's more important, I think," the singer adds.
Bamboo believes that he has chosen great singers in his team, despite Joniver's departure.
"I can say equally that I still have a great team and I am looking forward to working with them for this weekend for the lives.
"Yun lang naman yun, e."
ON RITA MARTINEZ'S BASHERS. On the other hand, Coach Bamboo is surprised that his team's comebacking member Rita Martinez has been receiving harsh comments on social media after he announced on TV that she will replace Joniver in Camp Kawayan.
When asked about his reaction, he said, "Oh my gosh! I have no idea.
"I'll talk to her about that definitely when I see her.
"Just stay away from the negativity.
"Just focus on the now and yung moment ngayon. Madami siyang dapat isipin.
"This is her moment, e. I just want her to do her best and shine from this.
"I'm wishing her the best."