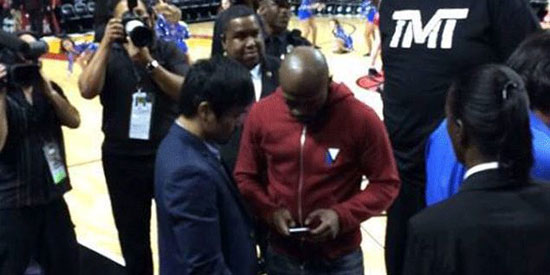 ---
MIAMI — Floyd Mayweather Jr. and Manny Pacquiao have finally met — in person. And now talks might get serious about them meeting in the ring.
The fighters were both sitting courtside, directly across from one another, at a Miami Heat game on Tuesday night (Wednesday, Manila time).
Mayweather went over to Pacquiao at halftime, the men shook hands and chatted briefly, then exchanged phone numbers.
"He gave his number to me and said we will communicate with each other," said Pacquiao, adding that he had never before met Mayweather in person.
Asked to clarify if the exchange meant the two would negotiate directly about meeting in the ring, Pacquiao said that was the case.
Mayweather did not respond to a question asked by an AP reporter. "Not now," one of his security guards said, as Mayweather fiddled with his phone.
A bout between the two would almost certainly be the richest ever in boxing, potentially grossing as much as $250 million. Mayweather's take alone could exceed $100 million.
Mayweather said last month that he's ready to make the fight happen May 2.
Asked Tuesday if that date can finally be the one, Pacquiao — who has said it's time to give boxing fans what they want — nodded and said "yes."
READ: Pacquiao, Mayweather chat, exchange phone numbers during chance encounter in Miami Heat game