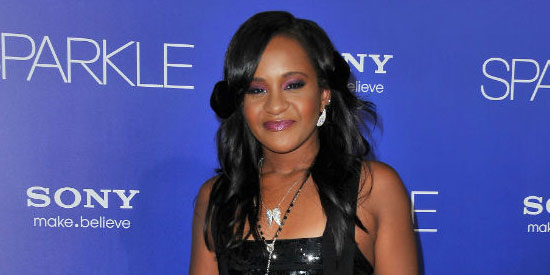 ---
Bobbi Kristina Brown was allegedly involved in a car crash four days before she was found unconscious in a bathtub.
The 21-year-old daughter of the late Whitney Houston was driving her Jeep Liberty on January 27 when she lost control, crossed lanes into oncoming traffic and smashed into another vehicle in Roswell, Georgia, the police told UsMagazine.com.
The nasty collision reportedly left two people—the driver she hit and a passenger in her car—in hospital with unknown injuries.
On January 31, the aspiring actress was discovered by her 'husband' Nick Gordon and ex-boyfriend Max Lomas face-down, unresponsive, in the bath at the couple's townhouse in Georgia.
The brunette beauty was rushed to hospital and placed in a medically-induced coma, where she has remained for the last two weeks, while she currently fights for her life.
Nick, whom she claimed she married in January 2013, is currently under investigation for unexplained injuries found on Bobbi's body after recent records revealed he had also called the police in July 2013 claiming his lover had fallen and was unresponsive.
ADVERTISEMENT - CONTINUE READING BELOW
Police documented at the time that Bobbi was disorientated when they arrived at the property and she was later taken to hospital.
Meanwhile, Bobbi's aunt Leolah Brown—the sister of her father Bobby Brown—believes Nick will "110 percent" be charged with a crime related to her niece's injuries.
As of yet, no one has been charged or named as a suspect in the incident, which is now being treated as a criminal case.
Bobbi is being cared for at Emory Hospital in Atlanta and her family are hopeful she'll make a full recovery after she showed signs of improvement recently by opening her eyes.