Julianne Moore and Eddie Redmayne received their first Oscars at the 87th Annual Academy Awards held Sunday night, February 22 (U.S. time), at the Dolby Theatre in Los Angeles, California.
Unknown to many, Julianne and Eddie had a "past."
The two starred in the 2007 film Savage Grace in which they played mother and son who have incestuous relationship.
Julianne is "so happy" she was crowned Best Actress at the Oscar Awards.
The 54-year-old star was over the moon when she picked up the big win of the night for her portrayal of Dr. Alice Howland, who suffers from the early-onset Alzheimer's Disease, in her movie Still Alice.
Speaking to the audience, she said: "I'm so happy, I'm thrilled that we were able to shine a light on Alzheimer's disease. So many people who have this disease feel marginalized. People who have Alzheimer's disease deserve to be seen so we can find a cure."
The strawberry blonde beauty looked stunning in a white floor-length strapless grown, which was embellished in crystals and subtle black detailing around the bust, hips and ankles.
She teamed the dress with simple sparkly earrings and kept her make-up minimal, but added a pop of color with a dark lip.
The stunning star pushed her luscious locks off her face with the use of a low side bun to expose her defined jawline.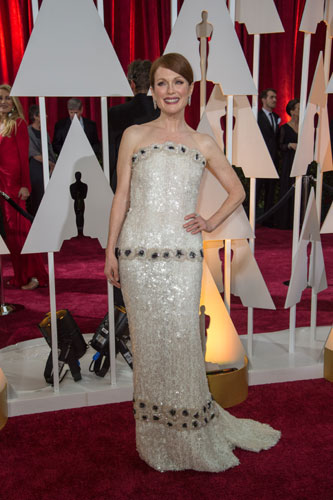 Meanwhile, Julianne admitted she spent four months speaking to women and doctors to prepare her for the role of Howland.
She explained: "I like stories about real people and real relationships and real families.
"This movie had all of those things in it. It's about a real issue and relationships and who we love and what we value."
Eddie, on the other hand, paid tribute to his wife as he picked up the Best Actor gong at the Oscar Awards.
The 33-year-old actor thanked his spouse Hannah, whom he married last December, during his acceptance speech at the Dolby Theater in Los Angeles as he was crowned the winner for his role of Stephen Hawking, who has motor neurone disease, in The Theory of Everything.
After collecting his award, he told the audience: "Thank you. Thank you.
"I don't think I'm capable of articulating quite how I feel right now. I'm fully aware that I am a lucky, lucky man.
"This Oscar belongs to all of those people around the world battling ALS. It belongs to one exceptional family—Stephen, Jane and the Hawking children.
"I will be his custodian. I will be at his beck and call. I wait on him hand and foot.
"Thank you to Hannah, my wife. I love you—we have a new fella coming to share our apartment."
The British hunk beat Michael Keaton, Bradley Cooper, Steve Carell, and Benedict Cumberbatch to the impressive prize, which was presented to him by Cate Blanchett.
Meanwhile, his Oscar follows his win at the Golden Globes, Screen Actors Guild Award, and BAFTA Awards last month.
The 87th Annual Academy Awards will air again on HBO tonight (Feb 23) at 9 P.M., Friday (Feb 27) at 11.10 P.M. and Sunday (Mar 1) at 4.30 P.M. (SGT).