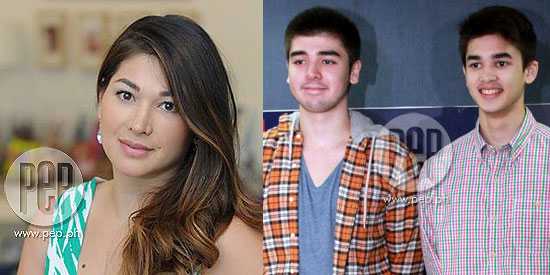 ---
Muli na namang nag-post si Jackie Forster ng ilan pang karagdagang detalye ng sinasabi niyang miserableng buhay niya sa piling ng dating asawang si Benjie Paras.
Sabi niya sa caption: "From age 15-21 my life was really scary at times.
"The depression I was in and out of was no joke.
"The things happening often in our house from day 1 wasn't healthy.
"When 1 baby became 2 I needed it to stop.
"Many times I would go to a friend's house and hide, that friend I ran to often always gave me back or called him to pick me up without telling me first.
"I think that person thought it was a joke. 'Til this day I don't understand why if she was supposed to be my best friend back then.
"So I really didn't know who I could trust because 95% of my friends were because of him - through him.
"Who can you turn to at 21?
"When I first started to show my negative feelings more publicly which was only the last few months of our marriage and he saw I was starting to have a mind of my own. He started allowing me to leave with my bestfriend to go out and have a "drink" or just listen to music. He was always invited but never wanted to come with.
"I felt a little just a little power when he saw that I was finally growing up and having my own likes and dislikes.
"I believe it scared him so he gave me a *little freedom.
But he would never change and matter of fact became worse.
"So I started rebelling hoping he would voluntarily ask me to leave if not allow me to finally have that temporary separation we spoke about. He went nuts and that's when he started locking me in the house.
ADVERTISEMENT - CONTINUE READING BELOW
"The only time out of the 5 over years we were together that I made those bad choices were only the last maybe 3 months. That's it.
"If whatever I did then to hopefully get my freedom deserves everything I went through for 5 years.
"Then I guess I am the pathetic one.
"These people around my kids love to twist things because it gives them justification on how they treat me and how they want the public to continue to see me.
"This is why I need my kids to see the truth- As I know it and our many of our close friends know it. ♡ #Godiswatching."
A MOTHER'S PLEA. Iginiit din ni Jackie ang kanyang pagiging ina kina Andre at Kobe Paras at ang pakiusap na sana ay makita na niya ang mga ito.
Sinabi pa niyang may mga taong nakapalibot sa kanyang dalawang anak na maaaring nagpapaikot sa mga ito.
Saad pa niya, "This is a mother's pathetic plea to be heard so that the people around her children can no longer have the louder voice.
"Those people have built walls around my children... and I'm praying those walls start to slowly chip away once things become more clear.
"It's obvious people around them have other motives then my kids well being.
"The more they put me down the more info I might feel the need to share.
"Why can't they just help fix the mess they helped create?
"And many still wonder why it's not easy to get through to the kids "privately".
"It's never too late to make things right."
"TOO VIVID TO FORGET." Sunod na binigyang punto ni Jackie ang naging karanasan niya noong ipinagbubuntis pa niya ang panganay nila ni Benjie na si Andre.
Lahad nito sa Instagram, "I dreamt about Andre a few weeks ago, because at our last dr. visit my ob said that the baby is in need on the larger side.
ADVERTISEMENT - CONTINUE READING BELOW
"I started having flashbacks of my pregnancy with Andre.
"When I had him I had to leave for the U.S and since we weren't in good terms, my mom decided to put me on medical or something like welfare because mahal manganak.
"Later on he sent me some money so I can buy maternity clothes and baby stuff.
"And as the due date approached, only then he sent more so I can buy other needs like stroller, crib etc... pero lagi syang inis.
"It wasn't like he was happy to send.
"Anyhow I continued on with that government support since it didn't seem like he wanted to pay for much else.
"When I gave birth, I never got an epidural.
"I'm not sure if it was because I was on that government program but I remember going to the hospital during early labor but I never got it done.
"Imagine, giving birth at 16, the father is not by your side going through labor for hours without any pain management?
"Andre was almost 9 lbs. at birth I think 22 inches.
"The pain and trauma is too vivid to forget.
"And I'm the one who can't enjoy all that I sacrificed to have them. #Respect."
"I AM SORRY I DID THAT." Sa huli, humingi ng paumanhin si Jackie kina Andre at Kobe.
Pinagsisihan daw niya ang pag-iwan niya sa mga ito, pero wala raw siyang magagawa noong mga panahong iyon.
Sabi niya, "You know the one thing I'm sorry for? The one thing I regret that I did wrong?
"It's not even doing those stupid things so I could leave.
"It was leaving you two there to be brought up by those people.
"I am sorry I did that.
"I'm sorry I didn't have the means to take you from them.
ADVERTISEMENT - CONTINUE READING BELOW
"I'm sorry that when I came for you with LJ that day, I didn't just take you and keep you… instead I got scared and I promised to be back.
"Even LJ was scared. We didn't know what else to do.
"No matter what happens from this point on, I just want you two to know, as God is our witness, I am here for you.
"My family -Your family will always take you in.
"Just because those people raised you both, it doesn't make them better than me nor does it mean they love you more.
"They took you away from me, and didn't allow me to come see you anymore.
"Good people do good things for the good of those they love.
"Not for selfish interests.#Godiswatching #imissandloveyouAndreandKobe
"I'm taking a break from this to spend the next few days with my family ♡ God bless our #prayerwarriors."