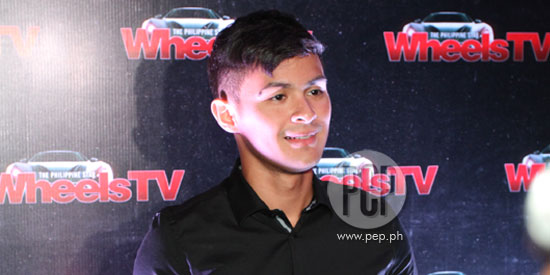 ---
Come March 26, Matteo Guidicelli will be celebrating his 25th birthday.
PEP.ph (Philippine Entertainment Portal) asked him his birthday wish.
Smiling, he replied, "I wanna say it but I can't."
Then, he continues, "My birthday wish is just, you know, for everybody to be happy and accepting for one another, yun lang.
"Yun, yun talaga.
"You know, siyempre I can't go into detail.
"But the truth is, yun, just to be happy and yun..."
Is this wish related at all to his lovelife?
"Everything, everything!" he said with a laugh.
"Yun, naging showbiz na ako, ha."
What does he mean, praying for acceptance?
"Wala lang, wala lang, 'ayan," he said vaguely.
Recent photos of Matteo and girlfriend Sarah Geronimo taken by fans at the Ed Sheeran concert last March 12 were enough proofs to dispel the breakup rumors.
One shot showed them in a tight embrace.
Read: Sarah Geronimo-Matteo Guidicelli get cozy at Ed Sheeran's one-man show in Manila
He answered, "Yes, nakita ko nga, e."
We teased him that he was holding on quite tight and he responded, "Siyempre naman, baka mawala sa akin."
Then he talked about the concert, "Siyempre naman, enjoy. Sobrang saya ng concert.
"Imagine mo, nasa isang upuan lang kami nakatayo dahil sobrang... sobra excited din ng mga tao kay Ed Sheeran."
He confessed, "You know, I only know one song of his, 'Thinking Out Loud.'
"But when I was there watching his concert, parang I knew all the songs.
"He's that good, super good."
How about Sarah? How did she find the concert?
Matteo said, "Yeah, yeah, siya talaga yung may gusto kay Ed Sheeran, e, so..."
ASHMATT IS OK. So he and Sarah are doing good?
Matteo replied, "Kaya nga, sobrang happy nga ng buhay ngayon, 'di ba?
"Kaming dalawa? Wala naman problema, wala naman problema."
ADVERTISEMENT - CONTINUE READING BELOW
In the past weeks, reports have been flying around that he and Sarah are on the rocks.
To this, he remarked, "A, may mga ano daw... wala naman. Masaya naman lahat.
"Stressed lang yun sa The Voice. Pero masaya na siya ngayon."
And how does he brighten up the day of his girlfriend?
He paused and revealed, "Sweet things? Hmmm, hahaha, uhm...
"I guess I try to make it sweet all the time we see each other dahil we don't see each other often.
"She's always busy so, the little things, the little things we do for each other."
The little things got us piqued so we prodded him to keep sharing.
"Uhm, we go out on dinner dates and all that stuff, and a lot of movies together, and we try to make these moments, you know, make it the best we can, make it super quality together."
What kind of movies do they watch?
Aside from the fact that Sarah is basically a local rom-com royalty, we wonder what genre they like to watch together and Matteo said, "We watch everything, everything!
"She likes love stories and romance, love stories kumbaga."
WHEELS TV. Meanwhile, at the launch held in Buddha Bar on March 17, Matteo was presented as the host along with Philippine STAR's Angel Rivero.
The show is the TV version of the popular Wheels section of the broadsheet.
Matteo related about his newest stint, "I'll be commenting on it.
"So, as a host, kumbaga, I'll be criticizing the cars, giving positive, negative feedback on what the pros and cons of the cars are."
He'll be joined by STAR's motoring journalists Manny de los Reyes, Kap Maceda Aguila, Atty. Karen Jimeno, and Ulysses Ang.
Matteo explained that the weekly show is going to be "relatable to the ordinary person, ordinary commuter, ordinary driver so people can relate.
ADVERTISEMENT - CONTINUE READING BELOW
"'Coz here, I'm not talking as a race-car driver, I'm talking as a normal, you know..."
During this 30-minute show, the first of its kind to move from print to TV, Matteo hopes that they can "be as honest as we can in our comments and everything else, and just be true to what we're driving, you know what I'm saying?"
We jokingly remarked, what if the car sucks, will they say it sucks?
He smiled and said, "Hopefully, yeah, you gotta be honest, you know.
"We're gonna say. We're gonna be, like, it has poor acceleration, et cetera and all that stuff.
"We don't wanna say anything good to something that's not, you know."
Matteo continued, "So that's what I'm very excited about, that's my dream come true talaga to have a car show, to really comment on cars."
The multi-sport athlete further stated, "I'm very, very excited that 'eto yung first love natin ano.
"Nagsimula tayo na isang race car driver, 11 years old.
"Then, I'm very blessed na Wheels TV got me into doing the show na all about cars."
INDAY BOTE. Aside from Wheels TV, Matteo will be seen daily on the pre-primetime serye Inday Bote, which is topbilled by Alex Gonzaga.
He said, "Nagsimula kami kahapon [March 16], right before TV Patrol, and mataas 'ata yung ratings namin.
"So, thank you very much mga Kapamilya for supporting Inday Bote.
"Pero mga bata pa rin ngayon, 'tapos pagkatapos ng week one, yun, lalabas na kami ni Alex Gonzaga at Kean Cipriano."
With all these projects coming in left and right, what are his thoughts on all the blessings?
"Sobra, unbelievable, it's a... the best feeling in the world.
"Not just blessed with work but also blessed with life itself.
"So I'm very, very happy and I can't ask for more."
ADVERTISEMENT - CONTINUE READING BELOW
He added that he will take some time off during Holy Week to make sure to reflect on all the good things happening to him.
"May taping kami, e, kasi parang araw-araw na yung taping namin.
"Pero may part naman doon na pupunta talaga ako sa Cebu.
"Like what I usually do every Holy Week, go back to the family and spend it there with them."