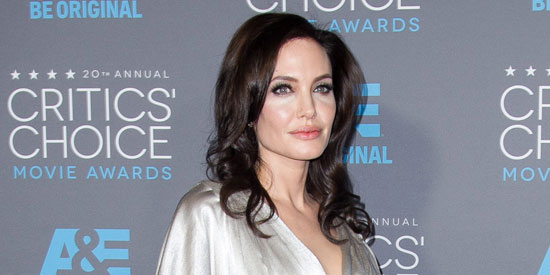 ---
Angelina Jolie revealed details about how she went through a preventive surgery, also known as laparoscopic bilateral salpingo-oophorectomy, wherein her ovaries and fallopian tubes had to be removed to avoid cancer.
In an article that she wrote for New York Times dated March 24, Angelina related that she decided to undergo the said medical procedure because her annual blood test result showed an increase of "inflammatory markers" that could be a "sign of early cancer."
It was admittedly a tough decision to make for the 39-year-old Hollywood actress who lost her mother, grandmother, and aunt to cancer.
Back in 2013, Angelina went through preventive mastectomy where she had her breasts removed because her blood test then revealed that she carries a "mutation in the BRCA1 gene" that gives her "87 percent risk of breast cancer and a 50 percent risk of ovarian cancer."
This time, however, having her ovaries and fallopian tubes removed meant she would be put into forced menopause.
"It is a less complex surgery than the mastectomy, but its effects are more severe.
"It puts a woman into forced menopause
"So I was readying myself physically and emotionally, discussing options with doctors, researching alternative medicine, and mapping my hormones for estrogen or progesterone replacement.
"But I felt I still had months to make the date," said Angelina.
Following her doctor's advice that it will reduce her cancer risk to "50 to 75 percent," Angelina decided to push through with the removal of her ovaries and fallopian tubes.
"That same day I went to see the surgeon, who had treated my mother.
"I last saw her the day my mother passed away, and she teared up when she saw me: 'You look just like her.' I broke down.
"But we smiled at each other and agreed we were there to deal with any problem, so 'let's get on with it.'"
ADVERTISEMENT - CONTINUE READING BELOW
Angelina further shared that her husband Brad Pitt, who was shooting in France, immediately flew to Los Angeles to be by her side during her operation last week.
Coupled with Brad's all-out support, Angelina said she braved the surgery knowing that the procedure will ensure that she'll live long enough to see her children grow up and later raise a family of their own.
"The day of the results came. The PET/CT scan looked clear, and the tumor test was negative.
"I was full of happiness, although the radioactive tracer meant I couldn't hug my children.
"There was still a chance of early stage cancer, but that was minor compared with a full-blown tumor.
"To my relief, I still had the option of removing my ovaries and fallopian tubes and I chose to do it," said Angelina.
She also shared that her test results showed that there was a "small benign tumor" on one of her ovaries, but there was "no signs of cancer in any of the tissues."
But to help maintain her hormonal balance and prevent uterine cancer, a progesterone IUD was inserted in Angelina's uterus.
"I chose to keep my uterus because cancer in that location is not part of my family history," Angelina added.
While she's admittedly aware that she remains prone to cancer, Angelina stressed that what matters is that she made informed decisions for her personal health issues.
"I did not do this solely because I carry the BRCA1 gene mutation, and I want other women to hear this.
"A positive BRCA test does not mean a leap to surgery.
"I have spoken to many doctors, surgeons and naturopaths. There are other options.
"Some women take birth control pills or rely on alternative medicines combined with frequent checks.
ADVERTISEMENT - CONTINUE READING BELOW
"There is more than one way to deal with any health issue.
"The most important thing is to learn about the options and choose what is right for you personally," she stated.
Angelina and Brad's biological kids are Shiloh, 8; Knox, 6; and Vivienne, 6.


They also have three adoptive kids namely: Maddox, 13, Pax, 11, and Zahara, 10.