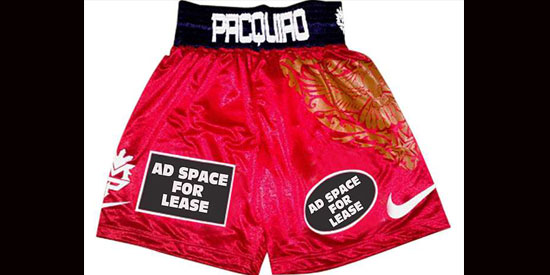 ---
COME May 2 (May 3, Manila time), the most valuable advertising space in the world will be Manny Pacquiao's trunks as he climbs the ring to fight Floyd Mayweather in Las Vegas.
Small wonder then that companies are lining up for the chance to put their logos on the Filipino boxing hero's shorts, which can be seen by millions of people who will view the long-awaited fight on May 2 - and in perpetuity each time boxing fans see highlight videos of the 'Fight of the Century.'
But this we've learned: the price tag for ads on Pacman's trunks is nothing short of eye-popping.
According to Team Pacquiao insiders, a simple six-inch-by-four patch on Pacquiao's fight trunks for the Mayweather fight will cost a company no less than US$300,000 or a cool P13.2 million—a couple of millions more than the price tag during the champ's last fight against Chris Algieri.
Smaller logos placed in the front part of the trunks are priced at US$150,000 (P6.6 million) while a logo of the same size at the back part will cost $100,000, or around P4.4 million.
ADVERTISEMENT - CONTINUE READING BELOW
Staggering?
The price tag on the trunks ads can certainly make your pants—err jaw —drop, but that doesn't mean there are no takers.
Quite the contrary, as Pacquiao handlers claim they are in talks with several companies, all eager to snap up the chance to have their logos seen each time the cameras zoom in on Pacquiao.
Actually, the evolution of Pacquiao's fighting trunks is a—pardon the pun—rags-to-riches story in itself, its value soaring to unseen heights as the Filipino fighter rose to prominence.
Read full story: Price tag of ads on Manny Pacquiao trunks nothing short of staggering