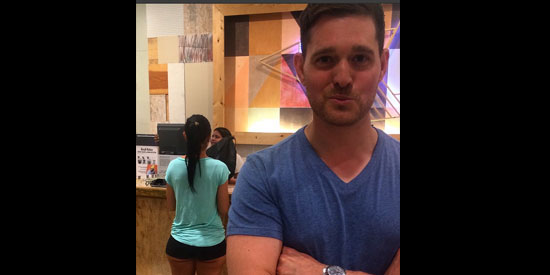 ---
Michael Bublé has been branded a "sexist" by outraged fans.
The "Haven't Met You Yet" hitmaker is currently holidaying in Miami, Florida with his wife Luisana Lopilato, but has left some of his supporters fuming after he posted a photograph on his Instagram account of a woman wearing short shorts.
Sharing the picture with his one million followers on the photo-sharing website, he wrote: "There was something about this photo lu took, that seemed worthy of Instagram. #myhumps #babygotback #hungryshorts #onlyinmiami #picoftheday #beautifulbum"
And fans were quick to blast the 39-year-old singer for "bullying" the young woman.
One wrote: "That awkward moment when @michaelbuble changes Instagram from a photo sharing application to a pulpit of bullying misogyny."
Whilst another read: "@michaelbuble Did you ask her permission to post that? Would you say what you hashtagged to her face?"
A third fan wrote: "Her body and outfit isn't for your comment or consumption. The fact that you took a picture of her without her consent is disgusting. Even if this is "shaming" it's very disrespectful."
In the latest news, Michael insists he didn't mean to "disrespect women or be insulting to any human being" after posting a photograph of a woman wearing short shorts, captured by his wife, Luisana Lopilato, on his Instagram account..
Responding to the backlash, the 39-year-old singer said: "I do not court controversy, but I realize that a photo that was meant to be complimentary and lighthearted has turned into a questionable issue."
In a statement to UsMagazine.com, the "Home" hitmaker added: "It hurts me deeply that anyone would think that I would disrespect women or be insulting to any human being...
ADVERTISEMENT - CONTINUE READING BELOW
"I regret that there are people out there who found the photo offensive. That was not and is not my intention.
"Women are to be celebrated, loved, respected, honored and revered.
"I've spent my life believing that and will continue to do so."