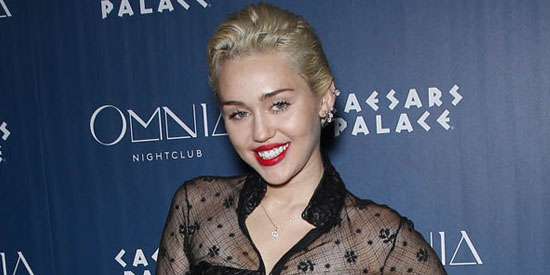 ---
Miley Cyrus is celebrating 4/20 day, an unofficial holiday honoring marijuana culture, which she described as the "best day of the year."
The "Wrecking Ball' hitmaker posted a picture of herself wearing the Joan Jett-themed nipple pasties she donned for the Rock and Roll Hall of Fame ceremony at the weekend while lighting up a bong smoking device on Instagram.
She posted alongside the picture: "Happy 420 💖 #stillinjoanpasties #studio #goodstarttodabestdayofdayear"
Meanwhile, the 22-year-old singer was also tagged in a post by Demi Lovato—who has been sober for three years since seeking treatment for an eating disorder, bipolar disorder, and other issues—as she reminisced about her "first blaze" with the former Hannah Montana star and ex-boyfriend Joe Jonas.
Alongside a picture of Demi and Miley taken in 2009 with Joe's face added in, alongside images of a joint, marijuana leaves and peace signs, the "Skyscraper" singer wrote: "In honor of our former escapades, I thought you'd like this to remember your first blaze.. Happy #420 @joejonas. #disneyhighclassof09."
Joe has previously spoken about how he "smoked weed" for the "first time" with the two actresses after they urged him to try the narcotic.
He said: "I must have been 17 or 18. They kept saying, 'Try it! Try it!' so I gave it a shot, and it was all right.
"I don't even smoke weed that often anymore."