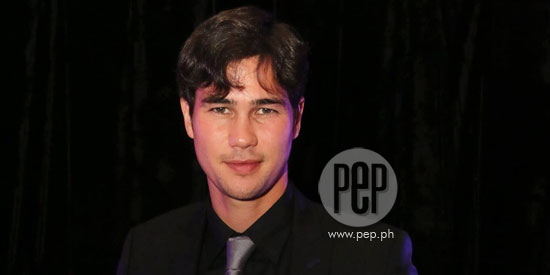 ---
Phil Younghusbad said that he didn't feel awkward when he bumped into Luis Manzano, a year and a half after the football striker's breakup with Angel Locsin.
The trio had a chance encounter during the baptismal of Kapamilya actress Dimples Romana's son Alonzo last March.
Asked how he reacted when he met his ex-girlfriend's current boyfriend for the first time, Phil said that it wasn't really a big deal since it has been a while when he and Angel have called it quits.
"We were at the binyag of Dimples's son, Alonzo.
"It's our first time meeting him, so I just said, 'Hi, nice to meet you.' And then that was it.
"There was nothing much to tell," said the Azkals' star striker in an interview with PEP.ph (Philippine Entertainment Portal) at the Cream Silk Portraits media event held at the Solaire Theater, in Pasay City, last Tuesday night, April 21.
Sans any hint of bitterness, Phil maintained that bumping into an ex-girlfiend and her current beau is "part of life" and what matters is that he and Angel still respect each other to date.
In fact, Phil has nothing but good words for Luis, who incidentally celebrated his birthday last night.
"He seems nice and I think it's important that there shouldn't be any reason to be awkward or have any awkward feeling.
"That's part of life and it's important that no matter what happens, you show respect to everyone and you show happiness.
"So there was no awkwardness. It was nice to meet him," he stated.
ADVERTISEMENT - CONTINUE READING BELOW
NOT DATING. As for his own lovelife, Phil said that he's not dating anyone at the moment.
"I'm enjoing my me time—Phil Younghusband time.
"I'm enjoying spending time with my friends, going to the cinema, and playing computer games [like] Fifa," he beamed.
It was in November last year when Bangs Garcia admitted that she and Phil are dating, but the two decided that they're better off as friends after all.
"It just didn't work out. It was a mutual agreement that it's best if we didn't see each other anymore.
"That was the decision," said Phil when asked why they parted ways early this year.
Phil further shared that his fellow Azkals player Anton del Rosario would often introduce him to potential dating partners, but the former reiterated that he'd rather enjoy his "me time" and stay unattached for now.
"That's one thing I learned. You can't force anything.
"The more you look for it, the harder for it to find.
"The more important thing is I just live my normal life.
"If I meet someone, I meet someone," he concluded.
SHARE THIS STORY
SHARE THIS STORY