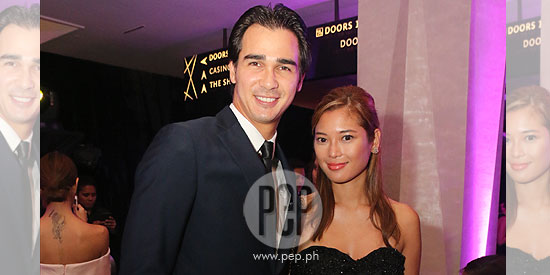 ---
"I'm really happy with the girl I'm with," said James Younghusband, adding that he's not interested in looking for a girl from show business.
James even easily agreed to have his photo taken with girlfriend/fashion designer Sari Lazaro for PEP.ph (Philippine Entertainment Portal).
The couple was spotted at the after-party of Cream Silk Portraits: A Celebration of The World Class Filipina, held at The Theater in Solaire Resort and Casino, last Tuesday, April 21.
They were happily chatting with a group of friends and a few Azkals players, including James' younger brother Phil and Anton del Rosario.
In a solo interview with PEP, James related that he and Sari have been a couple for "nearly three years now."
The 28-year-old football player further stated: "I met her actually through my friend here, Anton and Sam [del Rosario, Anton's girlfriend].
"We went out three years ago. It's a group kind of thing. A party. So we got to meet her.
"Yeah, she's a Filipina, fashion designer."
James was also vocal in saying how much he admires his girlfriend's caring personality and how she inspires him to be the best at his craft.
"The thing I love most about her, she's selfless, always thinking about others.
"She's always there for me when I need her. She's kind. She's a great woman.
"In my eyes, she's my world class Filipina."
From the looks of it, James is one proud boyfriend as he even posted an Instagram photo of him and Sari taken in a restobar where they first started dating.
ADVERTISEMENT - CONTINUE READING BELOW
As for talks of marriage, James said that it's still not in the table for now.
"No plans yet, but I'd like to think maybe in the next three years," he beamed.
ON PHIL. Given the fact that he's very much happy with his lovelife, PEP asked James if he ever tried introducing Phil to potential dating partners as well.
To which the elder Younghusband replied: "I could try but in terms of having a girlfriend, he's not connected with us.
"I think he likes to look around. He's happy at the moment being single."
James maintained that he doesn't really give love advice towards Phil, knowing that his younger brother is mature enough to handle matters of the heart.
"For me, as long as he's happy.
"He enjoys playing football, he enjoys spending time with his family.
"Obviously, I like him to settle down as well. [But] at the end of the day, it's his decision," he reasoned.
At any rate, James is glad to see Phil happy, to the point that the latter didn't have qualms about meeting his ex-girlfriend Angel Locsin's current beau, Luis Manzano, for the first time.
Read: Phil Younghusband on meeting Luis Manzano for the first time: "There was no awkwardness."
Asked if Phil has really gotten over Angel, James replied, "Yeah, he's moved on.
"I was with him when we attended Dimples' [Romana] baby's christening.
"Phil was great. It was nice to see that everyone has moved on with their lives and being good people."
ADVERTISEMENT - CONTINUE READING BELOW
BUSY SUMMER. In the meantime, James said he and Phil are busy playing football for Meralco Sparks.
"I'm in the middle of the season at the moment, we're playing with Meralco Sparks.
"I think our next Azkals game is in June for the World Cup Qualifiers," he said.
At the same time, the Younghusband brothers allot Tuesdays and Thursdays managing their soccer school for kids, Chelsea Football Club.
"Actually, now is our busiest time because it's the summer holidays for kids at school.
"We have a busy schedule, but me and Phil, we pop in. We'd like to go around and jump in and give a little tips and pointers.
"And actually, we really feel good doing it, back in what we originally started [to do] when we first came here in the Philippines."