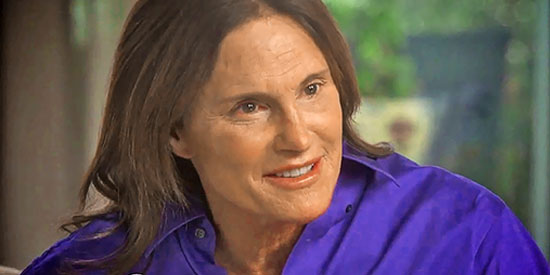 ---
Bruce Jenner admitted he has "the soul of a female" during his interview with Diane Sawyer, which was broadcast yesterday, April 24 (US time).
He shared: "For all intents and purposes, I'm a woman. I have the soul of a female and my brain in much more female than it is male, as of now I have all the male parts."
What's more, Bruce—whose divorce from ex-wife Kris Jenner was confirmed earlier this year—described himself as being "asexual."
He added: "I'm me, I'm a person. I'm not stuck in anybody's body. Bruce Jenner has always been confused with my gender identity."
Bruce, who respectfully declined to reveal what his new name would be, says he knew from a young age that he wanted to be woman, although he didn't understand it at the time.
The former athlete revealed the lengths he went to in order to keep his identity a secret.
Speaking to ABC's Diane Sawyer on Bruce Jenner: The Interview, the Keeping Up With The Kardashians star added: "I marked the closet so that when I put it back, I could put it all back in the exact same spot so I wouldn't get caught.
"At that time, I didn't know why I was doing it. Besides that it just made me feel good."
Bruce also confessed he'd considered committing suicide over his gender transition.
The 65-year-old Olympian said: "I thought, 'It's like over.' Then I thought, 'Wouldn't the easiest thing to be right now...'
"And I could see where people get to that. Go into the room. Got a gun. Boom. You know? Pain is over. It's done. You know. Go to a better place."
Bruce also recalled the conversation Kanye West had with his wife, Kim Kardashian, which he says helped Kim come to terms with his transition.
ADVERTISEMENT - CONTINUE READING BELOW
He said: "They were talking about it and [Kanye] says to Kim, 'Look, I can be married to the most beautiful woman in the world, and I am.
"'I can have the most beautiful little daughter in the world, and I have that.
"'But I'm nothing if I can't be me. If I can't be true to myself, they don't mean anything.'
"Since then, Kimberly has been by far the most accepting, and the easiest to talk to about it."
Bruce decided to tell his son Brandon first about the gender transition.
Speaking to ABC's Diane Sawyer, the 33-year-old actor said: "I saw a sense of bravery that, for all of your previous accomplishments, I think far exceeds all of them."