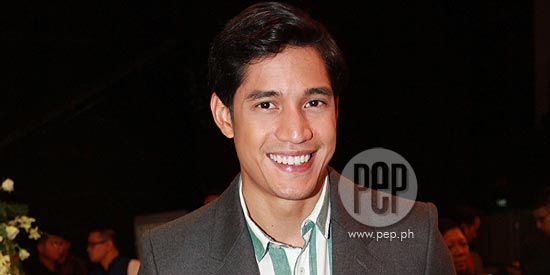 ---
PEP.ph (Philippine Entertainment Portal) caught up with Victor Basa during Axe Black's launch held at the Shooting Gallery in Makati City last April 15.
Just recently, Victor and longtime girlfriend Divine Lee shocked the showbiz world with news about their breakup.
Because both style icons refused to elaborate on the details regarding their split-up, many people are still wondering what led to the end of what many regarded as an ideal relationship.
So is Victor happy now? How is his heart? We ask, "Kumusta ang pusong Victor?"
He grins and remarks, "Very Tito Boy, ah.
''Okey naman, okey naman ang aking puso.
''It's just, in anything in life, you always have to step back and assess, assess the situation and ask yourself if this is what will really make you happy.
''And just having some quiet time for yourself will really make you realize what you really want."
Has he found what he really wants?
ADVERTISEMENT - CONTINUE READING BELOW
"Wala pa akong quiet time, e. Medyo busy pa ngayon, e.
''But yun, I was able to find my quiet time sa Holy Week na ganoon, nag-Visita Iglesia ako, naka-seven churches naman ako sa awa ng Diyos, even if it was very, very traffic."
He enjoyed the long drive on Black Friday best.
He recalls, "I went to La Union, 'di ako nagsaya talaga.
''I met some friends there, lahat mga lalake, guys lang.
''Sabi ko ayaw ko muna mag... I don't wanna hang out with girls first, kasi siyempre you're... Holy Week, 'di ba? So that's not for hanging out with girls.
''It's to be prayerful, and to reflect and be reflective. Reflective naman yung tubig doon!" he jokes.
"THERE ARE NO ABSOLUTES IN LIFE..." We ask what everyone has not been asking. The elephant in the room, so to speak. We want to give him a chance to clear the speculation regarding his status with Divine Lee.
ADVERTISEMENT - CONTINUE READING BELOW
He says, "Seriously speaking, I think, kailan ba final ang ano sa buhay, 'di ba?"
We ask him what he means by that.
"There are no... like, I don't believe that there is anything absolute in our life and you always uhm, 'di ba nauso nga sa dinami-dami ng artista, lagi sinasabi, 'Ayaw ko magsalita nang tapos.'
''So yun, I'm just really thankful for like all the opportunities that have been coming and I wish, uhm... all, all only the best."
So is Divine still a friend? They're on good terms?
"Of course, I would say she is more than a friend. But you know, I can understand the speculation, we have been together for a very long time. 'Ayun, I just wish her the best."
When asked to react to reports coming out that Divine said something along the lines of giving her space because she's "busy with her studies," Victor responds, "Well, I think when you're in a relationship, kailangan mo talaga ng space, minsan parang isang tao ka na lang, e.
ADVERTISEMENT - CONTINUE READING BELOW
''You get to realize na the relationship between two people na kailangan n'yo mag-grow individually as well as together so maybe she's doing that."
DIVINE AND JEREMY? Someone points out that her friend, celebrity chef Jeremy Favia, is now her constant companion.
Victor laughs a little bit and replies, "Well, kasi uso naman 'yan ngayon, 'di ba?
''Si Karylle at saka Vice, si Jake at Divine and here now, Jeremy at saka si Divine.
''I don't think na... hindi naman yata sila talo.
''And I know Jeremy, Jeremy is a good friend, I have known him for about well over a year, I think they are just very, very close and halos mag-... I would say he's the best friend now."
Is he open na magkabalikan sila?
"Habang may buhay. It's just nice din to start, to work on yourself and to grow individually first and realize kung kami ba talaga ang dapat sa isa't isa."
ADVERTISEMENT - CONTINUE READING BELOW
LESSONS LEARNED. Is he thankful for the lessons learned from this phase in his life?
"Uhm, lessons I've learned, uhm, be with somebody who makes you happy, 'di ba? Be with somebody who makes you happy. Simple as that. And, yun..."
We urge him to share a bit more.
"I can't talk, e. I can't talk. I'm a gentleman, nagpapaka-gentleman ako."
We ask him if he wished that their relationship should have perhaps been more private and not as public as it turned out?
Victor muses, "Well, no naman, because you also wanna inspire other people. But of course there are some things in a relationship that have to be private talaga."
He continues, pausing every so often, "We chose to be with each other, not with everyone else.
''We chose to be together, not because it will help our careers, not because of pressure from other people but because of... dahil sa nararamdaman namin sa isa't isa."
ADVERTISEMENT - CONTINUE READING BELOW
So where and what does this mean for him and Divine now?
"Now, I don't know, I don't know. I'm trying to figure that out, trying to figure that out. Medyo nakaka-disorient din, e."
In closing, he clarifies, "Wala namang animosity sa amin dalawa, e. Wala naman, 'di ba?
''It could be worse, it could be worse, 'di ba?''