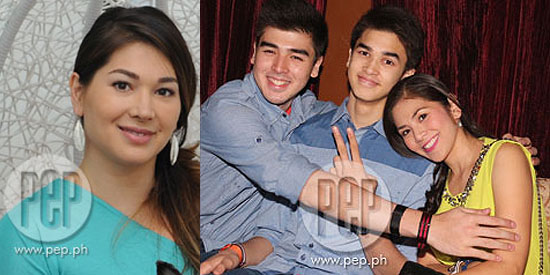 ---
Ilang oras pagkatapos mailathala dito sa PEP.ph (Philippine Entertainment Portal) ngayong araw, May 14, ang naging pahayag at komento ni Lyxen Diomampo sa Mother's Day messages ng kanyang stepsons na sina Andre at Kobe Paras, bumuwelta si Jackie Forster laban sa pangalawang asawa ng dating mister na si Benjie Paras.
Tila nag-ugat ang post na ito ni Jackie sa negative comments sa kanyang Instagram page, na ayon pa sa dating aktres "sounds like her."
Ang pinatutungkulan ni Jackie ay si Lyxen, ang pangalawang asawa ni Benjie at kinikilalang ina ng mga anak ng dating aktres na sina Andre at Kobe.
Sinamahan ito ni Jackie ng isang photo-message post:
Bahagi ng sinabi ni Jackie sa caption: "And fyi a person who spends time trying to put down a person whose doing well and remains happy despite all that they try to do or say to hurt the other… is just plain insecure!
ADVERTISEMENT - CONTINUE READING BELOW
"All you need is love ♡♡♡ Praying Jesus blesses your heart and soul. It's such a great feeling to be so strong that hating on me doesn't faze me anymore. It only makes me feel sorry for you.
"FYI that Haiti persons comments – that's how Lyxen speaks of me to others.
"That really sounds like her according to my insiders. That's not the side she shows my kids but her true side.
"One day I'm sure a few people don't mind proving it for me ♡♡♡ sucks to be you girl!"
Read: Benjie Paras's wife thanks stepsons Andre and Kobe for their "public greeting" on Mother's Day
ACCUSATIONS AGAINST LYXEN. Sa comments section, may mga nagtanong kay Jackie tungkol sa galit niya kay Lyxen.
Sabi ni @pattie_pot: "For if you forgive men when they sin against you, your heavenly Father will also forgive you. But if you do not forgive men their sins, your Father will not forgive your sins (Matthew 6:14-15).
ADVERTISEMENT - CONTINUE READING BELOW
"Feel free to block me after this. But if youre asking (or rather, DEMANDING) for forgiveness from someone, there should also be forgiveness in your heart.
"Even if you say that you have already forgiven them, your words and actions reflect the opposite. Ikaw na nagsabi na nasa tamang edad na mga anak mo.
"Unloading all these hatred in public makes it appear that through your army of followers, you are bullying your kids to reach out to you. Saying these awful things about their mother reflects awfully against you, not against her.
"Yes, being in showbiz is their choice, but you're simply making their public life worse. You know how hard it is to be in showbiz yet you keep on adding gasoline to the fire.
"From the perspective of a child, maawa ka po sa mga anak ko. I'm not a fan or follower of your children, I'm just extremely disturbed by your usage of Jesus' name in these hateful posts.
ADVERTISEMENT - CONTINUE READING BELOW
"Again, please block me so I don't have to stumble upon your hateful posts when I look at my EXPLORE page in IG. God bless you. I hope you have a safe delivery and a healthy Y. @jackie_forster"
Buwelta ni Jackie: "@pattie_pot you have no clue who I am. I have no hatred in my heart except for this feeling that's brewing towards Lyxen that have been cultivated through all the stories from insiders over the past 12years.
"You had the choice to stay off my page regardless of how you view what i posted and yet you chose to judge.
"You are no better than me. And since you aren't a follower/fan/supporter or concerned mother you really shouldn't have left any of your thoughts on here and then try to end it with 'I hope you have a safe delivery' or whatever because you saying nasty things to me shows you mean to hurt me.
ADVERTISEMENT - CONTINUE READING BELOW
"So stop with the contradictions. Just respect my space and life and make an effort to stay away. ♡ God bless your heart and motives."
Komento naman ni @lizzie_m.c.o.: "@jackie_forster Sobrang out of context na yun ibang comment dito. I feel for you, ever since I'm always on your side.
"However, not on this post. I know that you and the stepmom are not in good terms, I can imagine the pain seeing your sons adoring someone that you think they shouldn't.
"But mentioning her, and talking ill about her on your own IG account doesn't make you any better.
"What I'm trying to say, keep in mind that ball is at their side because whatever you do, you are still the one longing, yearning for your sons' love.
"And I don't think this will help if you're trying to mend things with them. I have followed you and you journey with Caleigh and I have nothing but great respect for you.
ADVERTISEMENT - CONTINUE READING BELOW
"Don't waste your energy entertaining negative thoughts and comments from others. I know you're in a very delicate stage, I too bet you're hormonal so just keep it low, take it easy. I wish you all the best. You can IM me if you have anything to say. God bless."
Sagot dito ni Jackie: "@lizzie_m.c.o., i don't expect you or anyone else to understand all that I do or say.
"We all have our differences. For this case I think you are taking things out of context and thinking like those haters.
"Read the post carefully and remember who I'm pertaining to. I no longer have intentions to pursue any good relations with the person masterminding all of this because of the countless disrespectful advances she has made towards me through and to and my friends.
"I don't expect people to understand because they/you have no clue what lengths she has gone to ruin me to anybody associated to me.
ADVERTISEMENT - CONTINUE READING BELOW
"So one can only imagine the depths she has gone through to encrypt the hate in my children. I am over the anger.
"I am disgusted with her behavior but mainly I feel very sorry for my kids. The things they say 'they've been through' are images she has put there!
"Imagine that mental abuse. And while I watch from afar and hear stories it's also mental abuse for me. Those are my kids.
"They will never be hers so how can she even think she will ever love them they way I can? What she has done and continues to do only proves she thinks only of herself and cares not for them.
"You can unfollow, I dont mind. If there is no respect there is no reason to be here specially if there is only judgment or premature speculation then I'd rather you unfollowed anyway.
"I'm not here for a big following, you should know this account was put up for A&K [Andre and Kobe] and now to reach out to those who need strength. I will never step down for something I have every right to fight for. That's what makes me, me ♡"
ADVERTISEMENT - CONTINUE READING BELOW
NOT A GOOD EXAMPLE. Isa rin sa ipinunto ni Jackie ay ang maling ehemplo na ipinapakita raw ng dalawang estranged sons niya laban sa kanya.
Dagdag pa niya, "Imagine all the kids following Andre and Kobe looking up to them now???
"And they are promoting that hating your biological mother is alright because she made mistakes when she was younger???
"I'm sure many mothers following me will be worried if your children start to think hating you ever is alright.
"I've said it before my children are also victims here which is why I wish people didn't bully them.
"But at one point I can only do or say so much, after that they will be judged according to their own decisions and actions.
"They chose to be in the public eye and this is the sad part of that life.
"They will be opened to public scrutiny and even though they are aware they are still making the choices that result in these things happening.
ADVERTISEMENT - CONTINUE READING BELOW
"So for those haters please stop blaming me. I've been blamed for enough. Their choices = their consequences."
"Praying A&K can start to set better examples for the youth looking up to them. Love you both. #imissandloveyouAndreandKobe"
Narito ang buong post ni Jackie kasama na ang caption:
UNFOLDING HER TRUTH. Sa Instagram posts ni Jackie kahapon, sinabi nitong pagkatapos niyang mangangak sa ikatlong supling nila ng asawang Dutch businessman, papakawalan na niya ang mga katotohanang matagal na niyang itinatago laban sa dating mister na si Benjie Paras.
Read: Jackie Forster on estranged sons Andre and Kobe Paras: "It's too bad that they also don't make a way to come speak to me privately."
Sa post naman niya ngayong araw, May 14, muling sinabi ni Jackie na kapag sinabi niya ang katotohanan, malalaman ng mga tao kung sino talaga ang totoong nagmamaniobra ng mga pangyayari sa buhay niya.
"Once I've shared the rest of my stories you will better understand who the puppeteer is in all this.
ADVERTISEMENT - CONTINUE READING BELOW
"And why these kids always feel the need to praise that other person even if it means backlash from people who believe it's disrespectful."
Sinabi rin niyang kahit nilapastangan na siya, patuloy pa rin siyang ginagabayan ng Diyos sa kanyang laban.
"I've had years of hate sent my way, by now I've learned to shut you guys out.
"Watch me as Jesus continues to bless me with each curse you throw at me.
"Life is beautiful. Stop wasting your time worrying about my life ♡ #liveinLove"
Isa namang komento ang sinagot ni Jackie.
Sabi ni @jaybeesmom: "Excuse me lang sa naglelecture dyan! Kung ang magulang sexually abused ang anak dyan ako makakaintindi bakit galit anak sa magulang which is impossible sa kaso nila Miss Jackie.
"Now, as an abandoned child sasagot ako! Sobra akong pinabayaan mga magulang ko.
"Sobrang sama pakikitungo nang ina ko sa akin to the point na sinisiraan niya ako sa ibang tao pero dahil sa mga nagpalake sa'kin at lumake akong masayang tao… nagagalit man ako sa mom ko, nawawala agad pag nakausap ko na siya.
ADVERTISEMENT - CONTINUE READING BELOW
"Bumabalik lang galit ko 'pag yung ugali niyang masama e lumalabas. Wala kasing brainwashing nangyari sa akin kaya I can easily forgive my mom. Sinabihan pa nga ako mom ko sana di na'ko nabuhay pero 'di ko dinamdam yun... Nasa pagpapalake, at nasa pagkatao to have a good heart."
Tugon dito ni Jackie, "@jaybeesmom once I give birth I will share a few things that will give you more clarity on why they worked on Kobe the most. He was the one closest to me ♡ but the 2 things I'll share will really show you how or why they got him to be this angry."
Bukas ang PEP sa panig nina Benjie, Lyxen, Andre, at Kobe.