Vanity Fair magazine have unveiled the first pictures of Caitlyn Jenner.
The former Olympian, who was known as Bruce Jenner before transitioning to a woman, has spoken out for the first time since her recent tell-all interview with Diane Sawyer in a feature accompanied by her first pictures as a woman, which were taken by acclaimed photographer Annie Leibovtiz.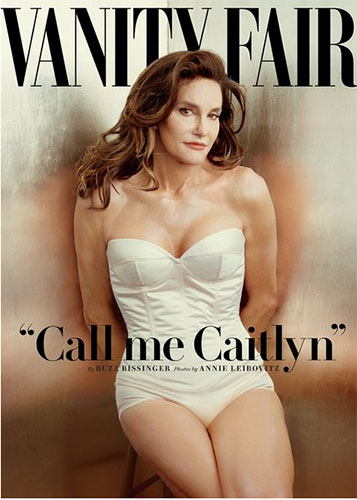 Caitlyn said: "If I was lying on my deathbed and I had kept this secret and never ever did anything about it, I would be lying there saying, 'You just blew your entire life.'"
She has also set up her Twitter account, writing on the micro blogging site: "I'm so happy after such a long struggle to be living my true self. Welcome to the world Caitlyn. Can't wait for you to get to know her/me."
Meanwhile, in a previous interview, where Caitlyn confirmed she would be transitioning into a woman, she admitted she wasn't quite ready to announce the name she had chosen just yet.
She said: "If I do [reveal the name], the media will go crazy and I'll never get rid of them," before joking that it wouldn't begin with a K like her ex-wife Kris Jenner, stepdaughters Kim Kardashian, Khloe Kardashian, and Kourtney Kardashian; and her daughters Kendall and Kylie Jenner.
In other pictures from the shoot, which were taken at her Malibu home, Caitlyn is seen wearing a multitude of beautiful outfits including a ball gown and a sequinned dress.
KARDASHIANS & JENNERS SUPPORT CAITLYN. Kim Kardashian says the whole family support Caitlyn Jenner.
The stepdaughter of the Keeping Up With The Kardashians star says the whole Kardashian and Jenner family love the former Olympian "no matter what," but also admitted more support is needed for those in the transgender community.
She told Glamour magazine: "No matter what, we love [Caitlyn]. I know [she] feels great that [her] whole family does support [her].
"I feel for people that don't have that support. There's such a high suicide rate in the transgender community, which is heartbreaking."
Kim also tweeted her support for the 65-year-old star, posting the message alongside a picture of Caitlyn on the cover of Vanity Fair magazine, her first photo shoot as a woman.
She wrote: "Caitlyn Jenner for Vanity Fair. Annie Leibovitz! How beautiful! Be happy, be proud, live life YOUR way!"
Khloe Kardashian, Caitlyn's stepdaughter, also took to Instagram to share her thoughts on the "beautiful" feature.
She said: "We were given this life because you were strong enough to live it! I couldn't be prouder!!! Caitlyn, You are beautiful!!!"
Caitlyn's daughter Kendall Jenner tweeted a snap from the photo shoot, captioning it: "now that's a cover. be free now pretty bird." while sister Kylie Jenner simply stated: "My angel on earth! #caitlyn"